Prime Time Home Team Advisors has built a team of professionals specifically to help your family reach your goals of settling an estate which is involved in the probate process here in Pasco County. If you & your family have inherited property that needs to be liquidated as part of the estate, we are the team to help guide you through the process.
Our Team can provide support during the process in several ways:
(1) List and sell the property on the open market: We can create a strategy to get the property sold in the shortest time for the highest price using our proven system. Our average listed property sells in 29 days.
(2) Bring you a cash offer in 24 hours: If the situation calls for a "quick sale", we work with cash buyers willing to purchase properties in "as is" condition with or without the remaining personal property. These buyers typically close on your timeline.
(3) Make necessary repairs/improvements: Our contractors can do any type of work from minor repairs to full renovations. Investing in the right repairs/improvements will allow you to sell for the highest possible price in the shortest amount of time.
(4) Handle any personal property in need of removal: The family can take what they want and our Estate Sale Partners will handle everything else. The Estate gets the proceeds.
If you would like more information or to discuss any problems you are faced with, please feel free to contact us at any time. We can be reached at our direct line, (813) 359-0880.
Our mission is to provide your family with valuable services & access to necessary resources during what can be a very trying time.

"We had our home on the market for almost FOUR YEARS with other Realtors. The house did not sell. We received a letter from Debi and Ernest. We were extremely impressed with their marketing materials. The plan they had to sell our home was far better than any of the other agents we had previously. They followed through with everything they said they would do. Debi and Ernest brought us an ALL CASH BUYER in just 39 Days!!! We HIGHLY Recommend Debi and Ernest to anyone looking to sell a home. They do what they say and they follow through!"
– Francine Baia, FL

The probate process has very specific issues that most realtors do not understand. As a result of this lack of knowledge, serious mistakes may be made that can have an enormous impact on your probate process. Ernest & Debi are proud to be the only real estate brokers on Pasco County to have completed the Advanced Training Institute's Certified Probate Expert certification program, or "CPE". Just one more reason the team at Prime Time Home Team Advisors should be your only choice when selling a property that is part of a probate process.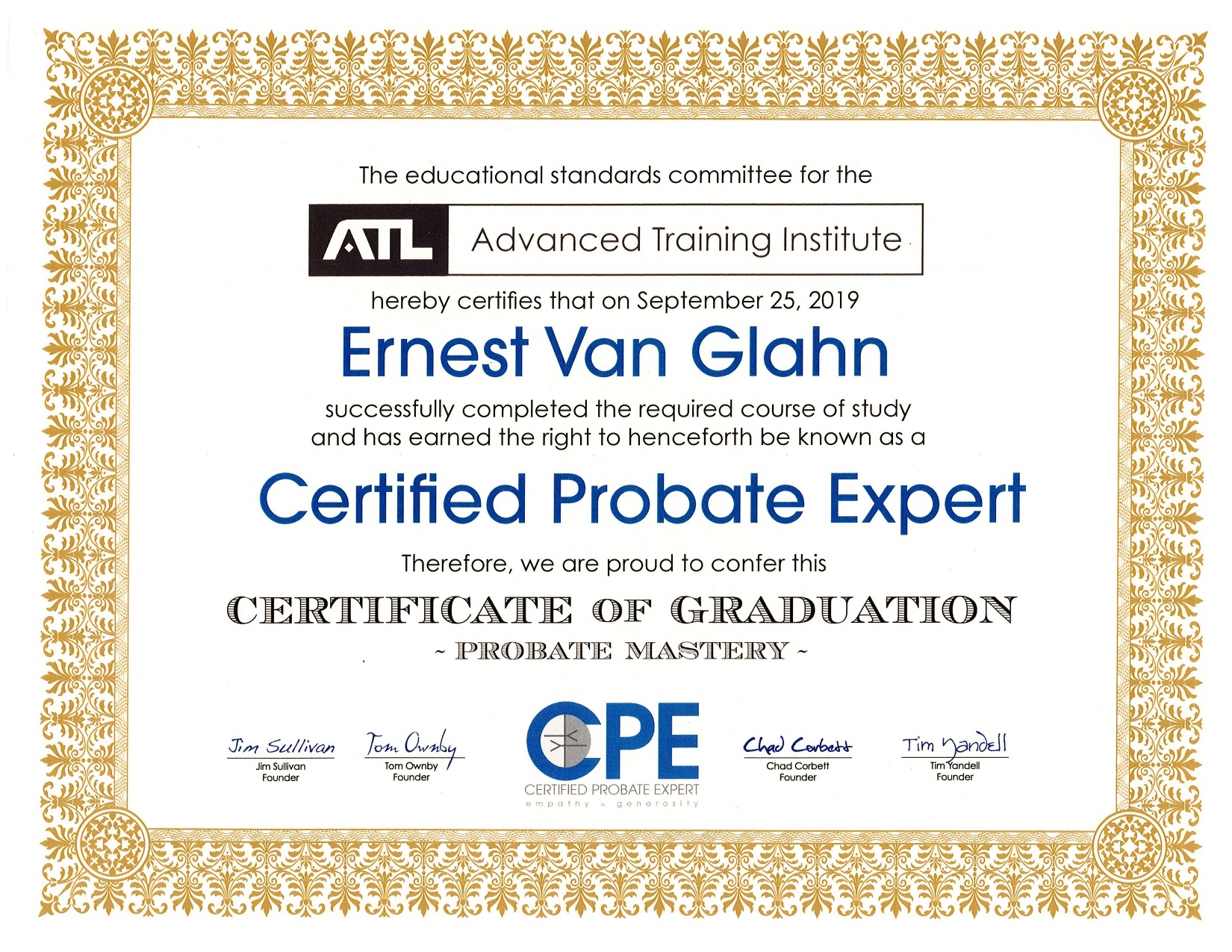 We're here to help you in any way we can during this difficult time. Whether you are ready to sell, or simply feel as if you need some information, please feel free to call us any time at (813) 359-0880 or click below.
Schedule a Probate Evaluation