Worthy Cause Blog: The Wait is Over: Battle of the Badges Fight Night
Posted by Ernest Van Glahn on Wednesday, February 15, 2023 at 1:43:48 PM
By Ernest Van Glahn / February 15, 2023
Comment
On March 31, 2023 The Battle of the Badges boxing match will take place at Terminal 5 in New York City, featuring the FDNY Boxing Team against the NYPD Boxing Team. The NYC Cops & Kids Program and the Tunnel to Towers Foundation will both benefit from the proceeds. Doors open at 7 PM, and the first match is set to begin at 8 PM that night. Nearly 10 years have passed since the wildly popular boxing match between New York's Bravest and New York's Finest.
Bobby McGuire, President of the FDNY Boxing Team, and Pat Russo, President and Founder of the NYC Cops & Kids Program, are in charge of organizing the Battle of the Badges. Both Pat Russo and Bobby McGuire were first responders to the 9/11 attacks and have a lengthy history with their respective boxing teams. In the 1980s, they both participated in the same NYPD vs. FDNY combat card at Madison Square Garden.
"Tunnel to Towers has helped so many families of members of the FDNY and of the NYPD" said Pat Russo. "We are coming together to do good and to never forget 9/11." On 9/11, Pat was in Staten Island, NY inside a voting booth when he overheard an Officer's radio who was stationed to work the polls that day. He heard that a plane hit one of the Twin Towers. He rushed home, turned on the TV and saw the second plane hit. Pat was already retired, but jumped into action to face the emergency at Ground Zero. "That was a terrible day in the history of America," said Pat, "which is why we better never forget the people that we lost, and never forget their families."
Bobby McGuire has been president of the FDNY Boxing Team since 2001, and was team captain from 1984-1994. Bobby retired from the FDNY after 22 years due to 9/11 related illnesses that he is still currently battling.
The FDNY Boxing Team and the NYPD Boxing Team have both long supported Tunnel to Towers, with both organizations hosting boxing events benefiting the Foundation. The FDNY Boxing Team hosted Thrilla in Camilla in June 2021, and the NYPD Boxing Team hosted NY First Responders Unite for Fight Night in remembrance of the 20th anniversary of 9/11.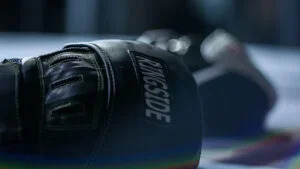 The donation will support Tunnel to Towers' In the Line of Duty Program, which provides mortgage-free homes to our country's seriously injured veterans and first responders, as well as homes to Gold Star families, families of fallen first responders, and homeless veterans through our Veteran Homelessness program.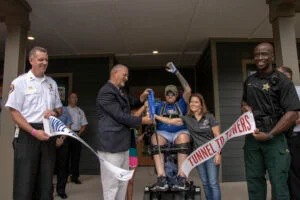 Tunnel to Towers is dedicated to honoring the sacrifice of FDNY Firefighter Stephen Siller, who laid down his life bringing others to safety on September 11, 2001. Since 9/11, Tunnel to Towers has Stephen's heroic legacy by supporting America's heroes who continue to risk life and limb in the line of duty.
Source: Tunnel to Towers
We are still on a mission to raise $25,000 for the Tunnel to Towers Foundation this year and we are getting close! We do this by donating to them a portion of our income from homes we sell.
As you know Tunnel to Towers Foundation does AMAZING work in helping our nation's first responders, veterans, and their families by providing these heroes and the families they leave behind with mortgage-free homes. They are also committed to eradicating veteran homelessness and aiding the victims of major U.S. disasters.
SO, YOUR REFERRALS REALLY DO HELP OUR HEROES.....
Who do you know considering buying or selling
a home you could refer to our real estate sales team?
Not only will they benefit from our award-winning
real estate service, a very worthy cause will benefit as well.
I want to make it easy to refer your friends, neighbors, associates, or family members considering making a move, so here are your options:
You can go to www.HelpUsHelpTheHeroes.com and enter their contact info online or forward the link to whom you know considering a move.
Of course, you can always call me direct as well at 813-359-0880.
Over a decade of helping hundreds of families sell their homes and/or buy another, we have met some wonderful, loving, caring people. People like you! So those you know considering a move that we help you have my word that we will do our very best in helping them buy or sell the place they call home.
Ernest Van Glahn
Selling Your Home and Getting Top Dollar!
Call me TODAY for a free consultation.
813-359-0880