Understanding the Impact of the Fed's Rate Pause on Home Buyers
Posted by Ernest Van Glahn on Monday, June 19, 2023 at 4:36:36 PM
By Ernest Van Glahn / June 19, 2023
Comment
In the ever-changing landscape of real estate, it's essential for buyers to stay informed about the factors that can influence their purchasing decisions. One significant factor that often garners attention is the Federal Reserve's interest rate policy. Recently, the Fed made an important announcement regarding a rate pause, and it's crucial for home buyers to understand what this means for them. In this blog post, we'll delve into the implications of the Fed's rate pause and explore how it can affect buyers in their quest for homeownership.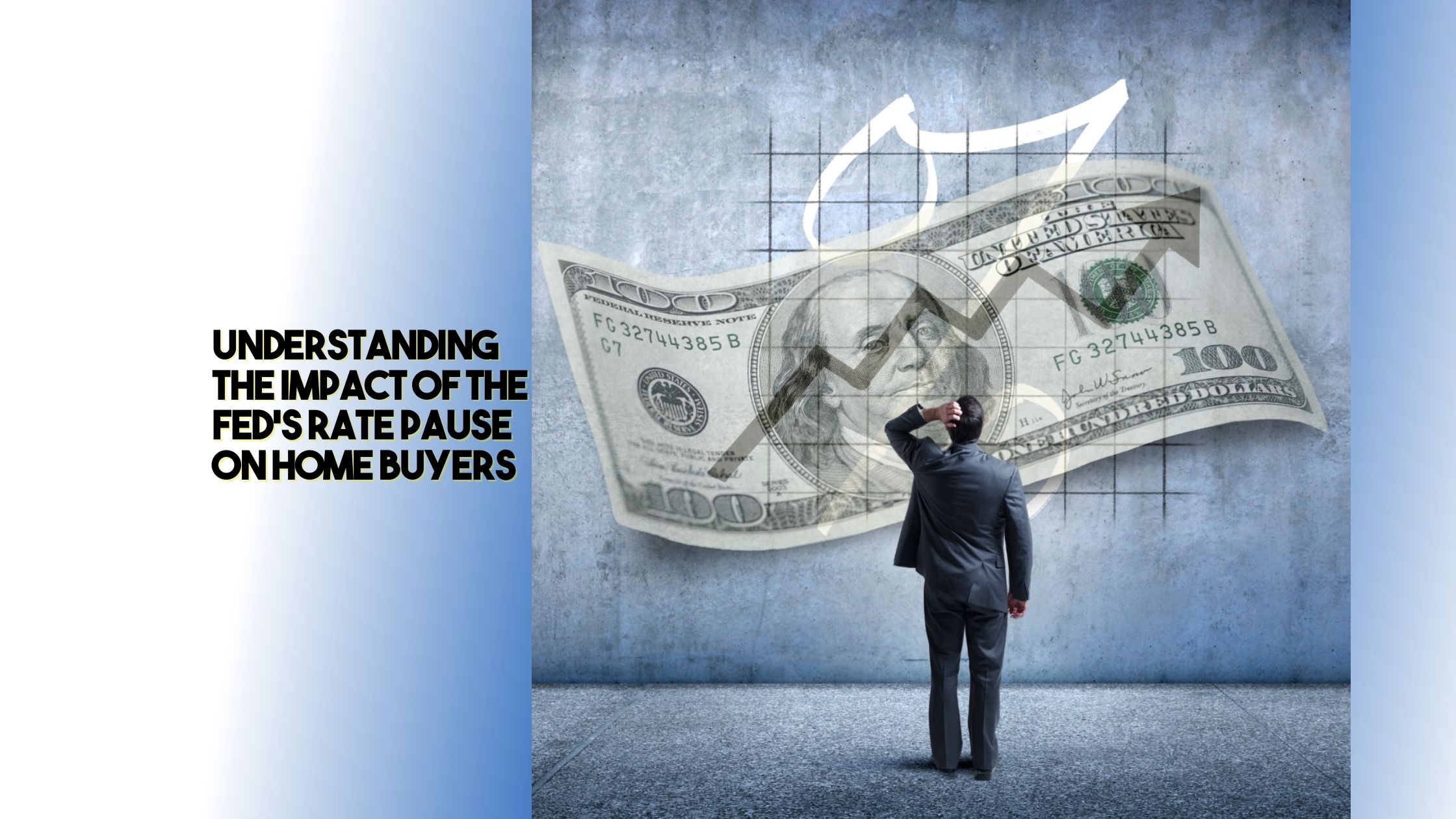 Understanding the Fed's Rate Pause
The Federal Reserve plays a crucial role in shaping the economy and monetary policy. One of the primary tools at their disposal is the adjustment of interest rates. These rates impact various aspects of the economy, including mortgage rates. The recent announcement of a rate pause by the Fed has sparked interest and raised questions among potential home buyers.
Stability in Mortgage Rates: The rate pause implies that mortgage rates are likely to remain stable for the foreseeable future. This can provide a sense of relief and predictability for buyers, allowing them to plan their finances with more confidence.
Improved Affordability: With stable mortgage rates, buyers may enjoy increased affordability. Lower borrowing costs can make homeownership more accessible, allowing buyers to stretch their budgets further or qualify for larger loans.
Market Conditions and Competition: The rate pause can influence housing market conditions and competition among buyers. As mortgage rates stabilize, demand for homes may increase, leading to a competitive buying environment. Buyers should be prepared for potential bidding wars and act swiftly when they find their ideal home.
Long-Term Considerations: While the rate pause offers immediate benefits, buyers should also consider the long-term implications. Interest rates may change in the future, potentially affecting mortgage rates. It's essential to consult with a knowledgeable real estate professional and weigh the pros and cons of timing your purchase based on the current rate environment.
Also Read: Mortgage Rates Experience a Slight Dip, Creating Opportunities for Homebuyers at 6.71%
The Federal Reserve's rate pause can have a significant impact on home buyers, influencing mortgage rates, affordability, and market dynamics. By understanding the implications of this decision, buyers can make informed decisions and navigate the real estate landscape with confidence. It's always advisable to consult with experienced professionals who can provide personalized guidance based on your unique circumstances.

This blog post is based on an informative article titled "What Does the Fed's Rate Pause Mean for Buyers?" published by Florida Realtors. The original article can be found here. We extend our gratitude to Florida Realtors for providing valuable insights and analysis on this topic.
Credits:Original Article: "What Does the Fed's Rate Pause Mean for Buyers?" by Florida Realtors. Read the full article here.
Blog post written by Ernest Van Glahn for PrimeTimeGuaranteedSale.com
At Your Home Sold Guaranteed Realty Prime Time, we understand the significance of the Federal Reserve's rate pause on homebuyers. Don't miss out on this golden opportunity to make your homeownership dreams come true!

Discover Your Perfect Home:
Explore our extensive listings of beautiful homes in the Tampa Bay area. From cozy bungalows to spacious family houses, we have a wide range of options to suit every lifestyle and budget.
Expert Guidance and Support:
Our team of experienced real estate professionals is here to guide you through the entire home buying process. We'll help you navigate the market, negotiate the best deals, and ensure a smooth transaction from start to finish.
Capitalize on Favorable Interest Rates:
With the Federal Reserve pausing its rate hikes, now is the ideal time to secure a mortgage with historically low interest rates. Take advantage of this unique opportunity to save money and make your dream of homeownership a reality.
Exclusive Financing Options:
We've partnered with trusted lenders who offer competitive financing options tailored to your needs. Whether you're a first-time buyer or looking to refinance, we'll connect you with the right resources to secure the best loan for your situation.
Stay Informed:
Our blog is a valuable resource for staying updated on the latest market trends, insights, and expert advice.
Call Now and Start Your Homebuying Journey:
Don't miss out on this incredible opportunity! Contact us at 727-267-2347 to schedule a consultation and let us help you find the perfect home in the Tampa Bay area.
Your dream home awaits! Visit YourTampaBayHomeInfo.com today.