Tunnel to Towers Foundation to Donate Mortgage-Free Home to Family of Fallen Buffalo Firefighter Jason Arno
Posted by Ernest Van Glahn on Wednesday, April 19, 2023 at 11:42:35 AM
By Ernest Van Glahn / April 19, 2023
Comment
So many have stepped up in the community to help out fallen firefighter Jason Arno's family.The Tunnel to Towers Foundation is one organization seeking to assist Arno's kin.
The family of deceased firefighter Jason Arno will receive assistance from the Tunnel to Towers Foundation. On March 1, 2023, Arno perished while battling a four-alarm fire on Main Street.
Arno, a 37-year-old Buffalo Fire Department veteran of three years, died in the line of duty while extinguishing a four-alarm fire.
Firefighter Jason Arno of the Buffalo Fire Department passed away on March 1, 2023, as he and his fellow firefighters from Engine Company 2 were putting out a four-alarm fire at a commercial structure.
"To give them that one security, that one thought that they don't have to ever worry about that again in their life, to have a mortgage-free home, I think it gives them some comfort in the most desperate time in their lives, and that's why we let them know right away," Siller said.
"That's why we let them know right away, right away so they don't even have to think about that," Siller said. "I just want (Sarah) her to know people care."
The Tunnel to Towers Foundation has offered to provide Arno's family a mortgage-free home. According to Frank Siller, Chairman, and CEO of the Tunnel to Towers Foundation, this will give Arno's wife and daughter some comfort and security at this difficult time.
Also Read: Supporting Our Fallen Heroes
"Firefighters like Jason Arno are different. When everyone else was running to safety, he ran into the flames to help fight this fire. In honor of his sacrifice and his service to his city, I promise that Sarah and Olivia will always have a place to call home."
- Frank Siller, Chairman and CEO of the Tunnel to Towers Foundation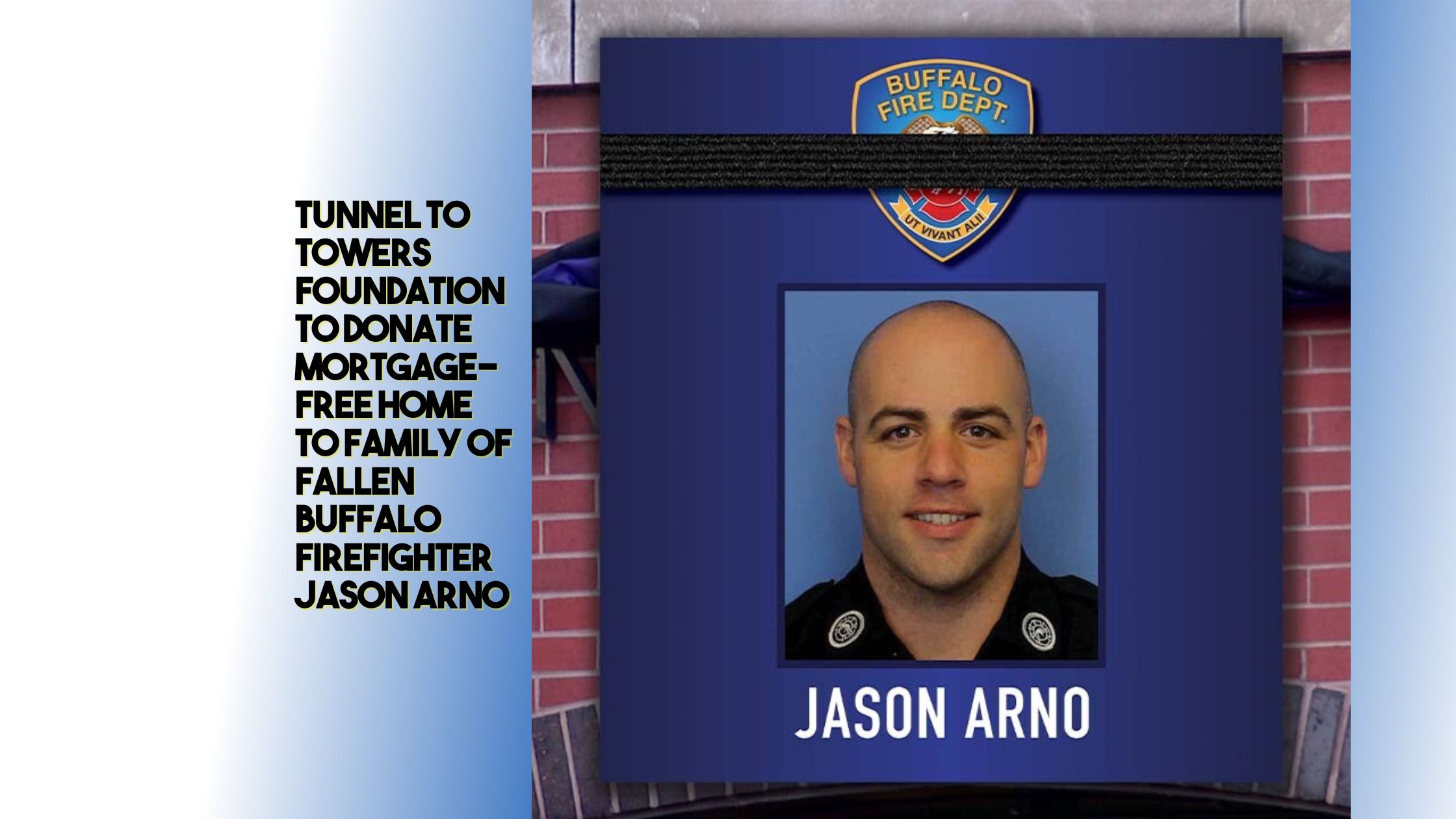 The Tunnel to Towers Foundation is committed to ensuring we never forget 9/11, the sacrifices made, and those that continue to be made by our first responders in the line of duty.
Through the Fallen First Responder Home Program, Tunnel to Towers aims to pay off the mortgages of fallen law enforcement officers and firefighters who lose their lives in the line of duty, or to 9/11 related illness, and leave behind young children. The Foundation's goal is to ensure stability and security for these families facing sudden, tragic loss.
Jason Arno was a devoted husband and father to Olivia, his daughter. He worked at several bars and restaurants before joining the Buffalo Fire Department. While working for the department, he fell in love with Sarah-Elizabeth. His daughter's birth in 2019 is regarded by his family as being the most significant day of his life. In order to provide for his family, he joined the fire academy in 2020, and his first position was with Rescue 1. Afterwards, he worked for Engine Co. 2 and Engine 4. Arno's commitment to his community and his desire to learn and grow were evident throughout his career.
Read Related: Family of Fallen Raleigh Police Officer Receives Mortgage-Free Home
Mayor Byron Brown described Arno as a hero who gave his life trying to protect others, and Siller said he was grateful for the outpouring of support from the community. Arno's legacy will live on through the support and generosity of organizations like the Tunnel to Towers Foundation.
"Firefighter Arno is a hero. He gave his life for the community trying to protect others, and the outpouring of support has been absolutely amazing from the city, the region, across the country and internationally as well," said Buffalo Mayor Byron Brown.
"We want to take the goodness of America, the generosity of America, and take care of the greatness of America," said CEO Frank Siller. "The greatness of America are the ones willing to die for you and I every single day. And sometimes they do, like firefighter Jason Arno."
Siller said it was created in honor of his brother, Stephen, a Brooklyn firefighter who gave his life saving others on Sept. 11, 2001.
"I know my brother, Stephen, would be proud of what we're doing – the work we're doing," Siller said.
"If you go out and you give your kids a kiss goodbye and you protect your community – whether you're a firefighter, police officer, a first responder – and you don't come home, we made a promise that we're going to take care of your family that's left behind," Siller said.
The Tunnel to Towers Foundation was established after the events of September 11, 2001.
"Born from the tragedy of 9/11, the Tunnel to Towers Foundation carries out its mission to 'do good,' by providing mortgage-free homes to Gold Star and fallen first responder families with young children and by building specially-adapted smart homes for catastrophically injured veterans and first responders," a release says.
Also Read: Support Our Heroes
"Officer Torres dedicated his life to his country, community, and family. He served in the Marines before serving the citizens of Raleigh. He is a hero, and I am honored to welcome his family into our family and provide them with a forever home," said Tunnel to Towers Chairman and CEO Frank Siller.
Jasmin says her husband would be speechless by the support she has received. "I know he would be so thankful that his girls are being taken care of; he worked so hard to do that for us himself."
Did you know? We proudly support the Tunnel to Towers Foundation!
Read Related: Making a Difference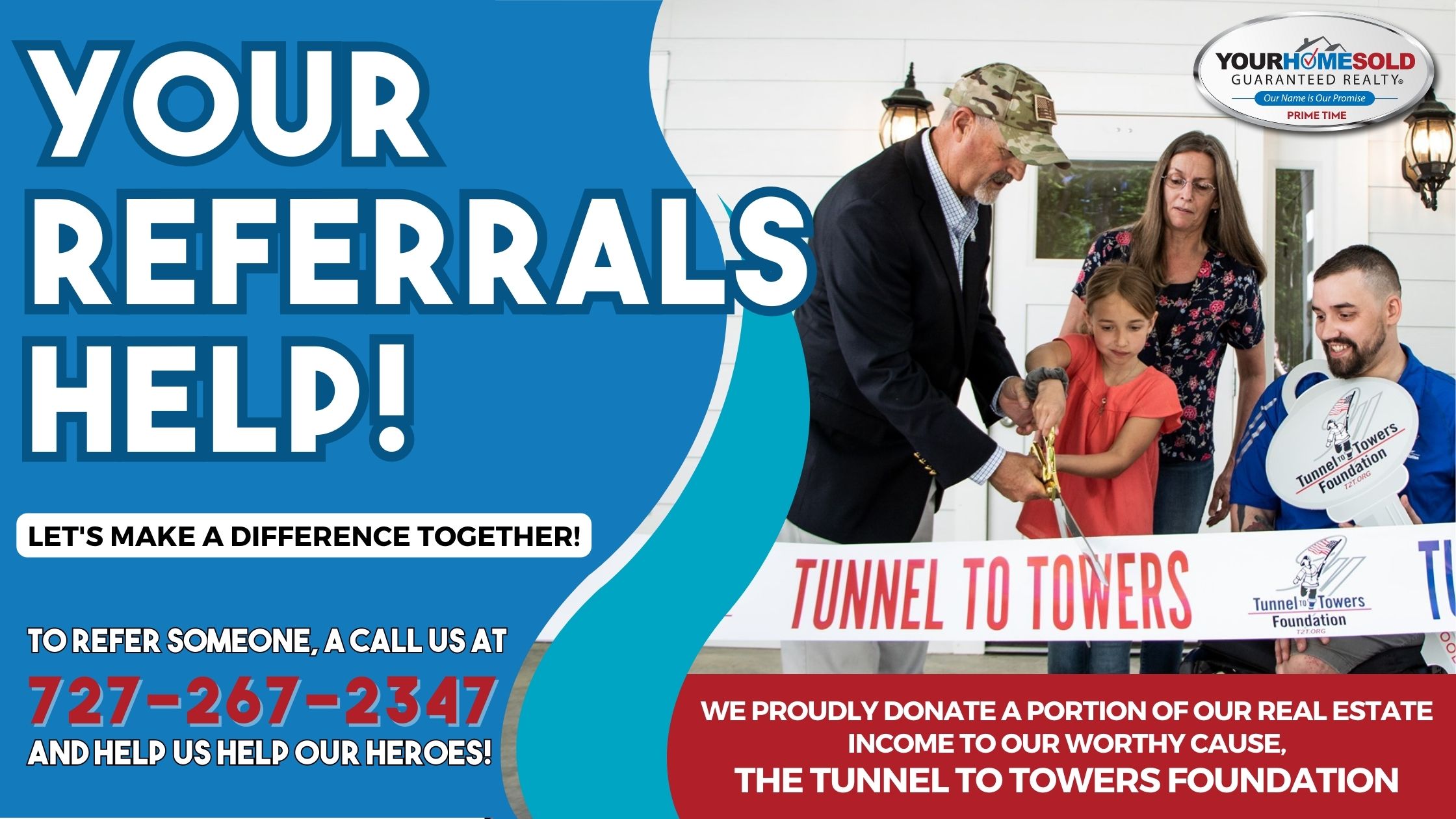 Read Related Articles: Tunnel to Towers
OUR WORTHY CAUSE
We are on a mission to raise $25,000 for the Tunnel to Towers Foundation this year. We do this by donating to them a portion of our income from every real estate transaction.
As you know Tunnel to Towers Foundation does AMAZING work in helping our nation's first responders, veterans, and their families by providing these heroes and the families they leave behind with mortgage-free homes. They are also committed to eradicating veteran homelessness and aiding the victims of major U.S. disasters.
SO, YOUR REFERRALS REALLY DO HELP OUR HEROES.....
Who do you know considering buying or selling a home you could refer to our real estate sales team?
Not only will they benefit from our award-winning real estate service, a very worthy cause will benefit as well.
Ernest Van Glahn
Selling Your Home and Getting Top Dollar!
Call me TODAY for a free consultation.
813-359-0880