Tunnel to Towers Foundation Pays Off Mortgages for Fallen Southern Colorado Heroes
Posted by Ernest Van Glahn on Wednesday, June 28, 2023 at 2:10:38 PM
By Ernest Van Glahn / June 28, 2023
Comment
In a remarkable act of gratitude and support, the Tunnel to Towers Foundation has stepped forward to relieve the financial burden of fallen heroes' families in Southern Colorado. Tunnel to Towers Foundation is dedicated to honoring the sacrifices made by first responders and military personnel, has generously paid off the mortgages of these brave individuals.
The Tunnel to Towers Foundation has long been committed to honoring the memory and sacrifices of first responders and military members who have made the ultimate sacrifice. Recognizing the financial strain faced by the families left behind, the foundation embarked on a mission to pay off the mortgages of fallen heroes in Southern Colorado. This compassionate gesture seeks to provide some measure of solace and relief to these courageous families during their time of grief.
Read related: Tunnel to Towers Delivers 30 Mortgage-Free Homes to Families of America's Fallen Heroes in Observance of Memorial Day
Fountain Police Department K9 Officer Julian Becerra
FPD K9 Officer Julian Becerra enlisted in the United States Air Force in 2006, shortly after graduating high school. Officer Becerra served eight years in the Air Force before entering law enforcement as a Detention Specialist for the El Paso County Jail where he met his wife, Katie who was working as a nurse.
Officer Becerra moved to Colorado Springs and joined FPD where he was selected for the K9 program in 2020.
Officer Becerra was fatally injured when he fell from an overpass while chasing carjacking suspects on Feb. 2, 2023, and later died on Feb. 11, 2023. He is survived by his wife, Katie, and their two children, Isabella and Mateo.
"Receiving support from Tunnel to Towers has changed our lives. It's hard to put into words just how much this gift truly means," said Katie Alderman.
For families left grappling with the loss of a loved one, the financial burden of a mortgage can add further stress and uncertainty to an already challenging situation. The Tunnel to Towers Foundation aims to alleviate this burden by paying off the remaining mortgage balances. By doing so, the foundation provides a sense of stability and financial security, allowing these families to focus on healing and rebuilding their lives.
Read: Our Commitment to the Tunnel to Towers Foundation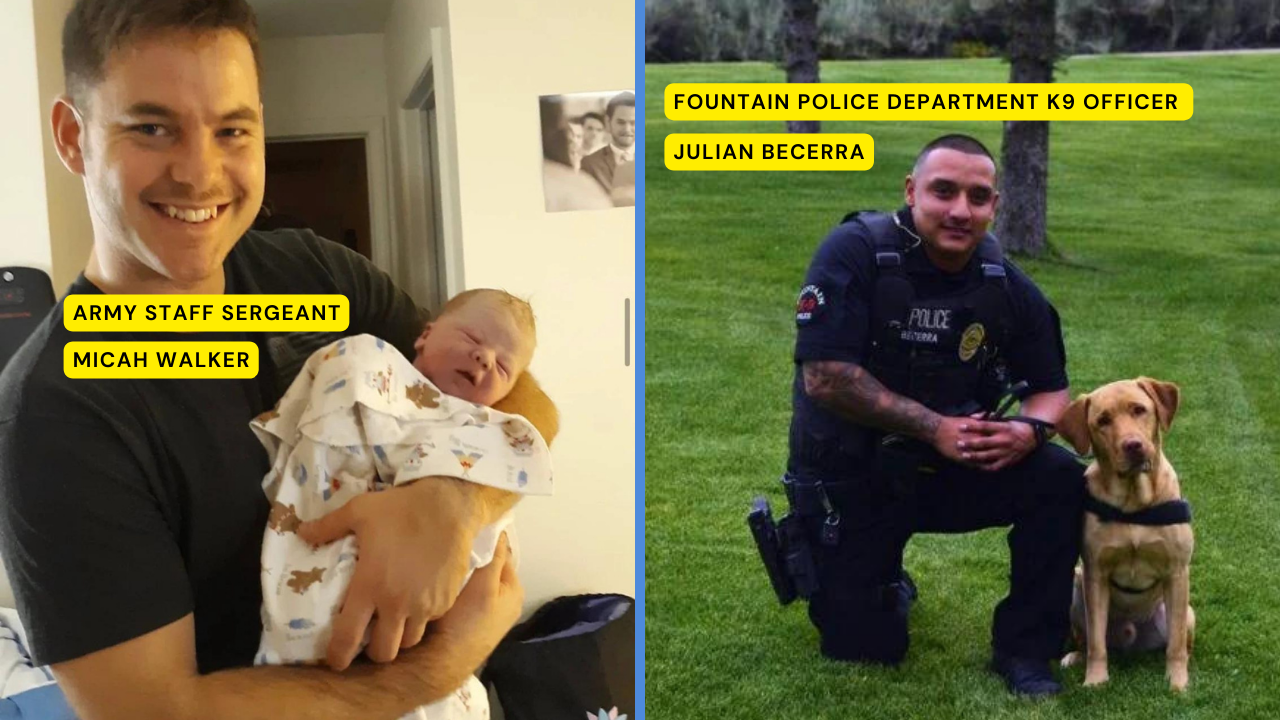 Army Staff Sergeant Micah Walker
Staff Sergeant Micah Walker who was a member of the 10th Special Forces Group, passed away on July 27, 2021, during a dive training accident in Florida.
SSG Walker spent six years as a missionary with Impact Africa in Johannesburg, South Africa where he met and married his wife, Cori.
After the birth of their first daughter, his family moved back to Colorado where he enlisted in the Army and lived in Fountain. SSG Walker became a Special Forces Combat Medic and was a student in the Special Forces Diver Qualification Course when he died. He is survived by his wife and their three children.
"Our home has always been a safe haven. Especially these past two years…As I found out the news of our mortgage being paid for I was watching our children laughing and playing in our yard. What a balm to the soul knowing this home is fully ours," said Cori Walker.
The Tunnel to Towers Foundation's initiative has garnered immense support from the local community and beyond. Many individuals, organizations, and businesses have come forward to contribute to this worthy cause, recognizing the importance of showing gratitude and support for the families of fallen heroes. The collective effort and generosity of the community serve as a testament to the deep appreciation felt for these brave individuals and their sacrifices.
Also Read: Tunnel to Towers Foundation Delivers Smart Home to USMC Corporal Mathew Bowman
The impact of the Tunnel to Towers Foundation's gesture cannot be overstated. By relieving families of mortgage payments, they are providing a lifeline and a fresh start. This act of kindness not only eases immediate financial pressures but also offers long-term stability, allowing families to better plan for the future and make informed decisions during this difficult period. The Foundation's support becomes a beacon of hope and a reminder that these families are not alone in their journey.
Through paying off mortgages, the Tunnel to Towers Foundation helps ensure that the legacies of fallen heroes live on. By honoring their memory and supporting their families, the foundation recognizes the incredible sacrifices made by these individuals in the line of duty. The act of paying off mortgages serves as a lasting tribute to their courage, bravery, and unwavering commitment to protecting their communities.
The Tunnel to Towers Foundation's remarkable initiative to pay off mortgages for fallen heroes' families in Southern Colorado underscores the profound impact that acts of kindness and support can have on those who have endured the loss of a loved one. By alleviating the financial burden, the foundation provides a sense of stability and peace of mind to these deserving families. This inspiring story serves as a reminder that even in the face of tragedy, there are organizations and communities dedicated to honoring and supporting those who have sacrificed so much for others.
Our Worthy Cause: Supporting Our Fallen Heroes
At Your Home Sold Guaranteed Realty Prime Time, we are proud supporters of the Tunnel to Towers Foundation and their mission to provide mortgage-free smart homes to injured veterans. We believe in giving back to those who have sacrificed so much for our country, and we want you to be a part of this noble cause.
With every transaction involving buying or selling homes, we commit to donating a portion of our income to the Tunnel to Towers Foundation. By choosing us as your trusted real estate partner, you're not only receiving exceptional service but also contributing to the well-being of our heroes.
But that's not all! We need your help to make an even greater impact. When you refer clients to us, you're not only helping them navigate their real estate journey smoothly but also joining us in supporting our veterans. Each referral you send our way becomes another opportunity to give back.
Together, we can make a significant difference in the lives of our nation's heroes. Join us in showing our appreciation and gratitude by referring clients to Your Home Sold Guaranteed Realty Prime Time. Let's help the Tunnel to Towers Foundation continue their vital work of providing deserving veterans with safe and accessible homes.
Contact us today to learn more about our commitment to the Tunnel to Towers Foundation and how you can be a part of this incredible initiative. Together, we can create a brighter future for those who have selflessly served our country.
You can go to www.HelpUsHelpTheHeroes.com and enter their contact info online or forward the link to whom you know considering a move.
Of course, you can always call me directly at 813-359-0880.
SO, YOUR REFERRALS REALLY DO HELP OUR HEROES.....
Who do you know considering buying or selling a home you could refer to our real estate sales team?
Not only will they benefit from our award-winning real estate service, a very worthy cause will benefit as well.
Ernest Van Glahn
Selling Your Home and Getting Top Dollar!
Call me TODAY for a free consultation.
813-359-0880