Tunnel to Towers Foundation Pays Off Fallen Knox County Deputy's Mortgage
Posted by Ernest Van Glahn on Wednesday, October 18, 2023 at 3:56 PM
By Ernest Van Glahn / October 18, 2023
Comment
Preserving a Hero's Legacy: Tunnel to Towers Foundation Pays Off Fallen Knox County Deputy's Mortgage
In the line of duty, Knox County Sheriff's Deputy Tucker Blakely tragically lost his life while responding to a domestic violence call. However, his legacy is now being honored in a remarkable way. The Tunnel to Towers Foundation has stepped in to pay off Deputy Blakely's mortgage, ensuring his family's future. This touching act of compassion speaks volumes about the foundation's commitment to our heroes.
Put yourself in Deputy Tucker Blakely's shoes—a life dedicated to serving his country and community, making the ultimate sacrifice while responding to a domestic call, leaving behind a grieving wife and a young son. Tucker was not just a Knox County Sheriff's Deputy but also an Army veteran, embodying the spirit of a true hero.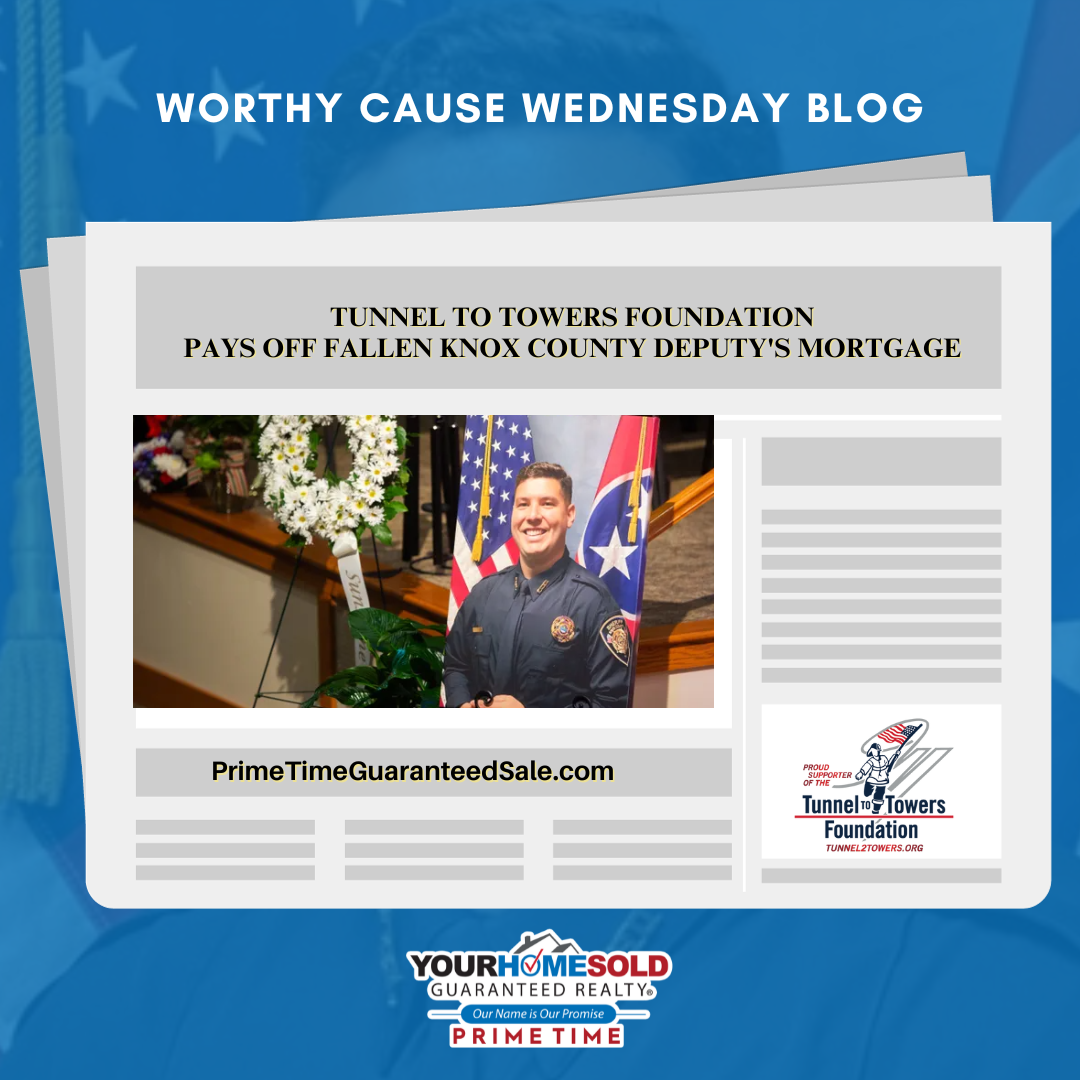 Read related: Texas Air Force Veteran Smart Home Renovations
His selfless dedication didn't stop with his last breath; Tucker saved lives through organ donation, leaving an indelible mark on the world. In the wake of this tragedy, the Tunnel to Towers Foundation has risen to the occasion, announcing that they will be paying off the mortgage on Deputy Blakely's family home.
Frank Siller, Chairman & CEO of the Tunnel to Towers Foundation, personally spoke to Katarina, Deputy Blakely's wife, to deliver this heartfelt news. Siller expressed his deep admiration for Deputy Blakely, describing him as a superhero who answered the call to serve in every facet of his life—protecting his community and nation.
The Tunnel to Towers Foundation is renowned for its Fallen First Responder Home Program, which steps in to alleviate the financial burden faced by the families of law enforcement officers and firefighters who are killed in the line of duty, pass away from 9/11-related illnesses, or leave behind young children.
Also Read: Thousands Join the 22nd Annual Tunnel to Towers 5K Run & Walk
The news of Deputy Blakely's mortgage being paid off is a touching gesture, providing a much-needed silver lining for his family during this dark time. This is where you can join this heartwarming cause, making a lasting impact on families like Deputy Blakely's.
Consider supporting the Tunnel to Towers Foundation in their mission to provide comfort and stability to these heroic families. When you purchase a home through our company, you play a direct role in this initiative. A portion of the income from homes sold will be donated to the Foundation, ensuring that families like Deputy Blakely's can keep their homes, preserving a sanctuary and lasting memory of their loved ones.
Read: Honoring Heroes and Remembering 9/11
Your support can help these families find solace and stability during their most challenging times. Every contribution counts, and every home sold through our company brings us closer to ensuring that these heroes' families can remain in their cherished homes, forever surrounded by the memories of their loved ones.
Let Deputy Blakely's story serve as a reminder of the sacrifices made by our first responders. Together, we can honor their memory and provide a brighter, more secure future for their families. Choose our homes and support the Tunnel to Towers Foundation today; your involvement can make a profound difference.
Our Worthy Cause: Supporting Our Fallen Heroes
At Your Home Sold Guaranteed Realty Prime Time, we are proud supporters of the Tunnel to Towers Foundation and their mission to provide mortgage-free smart homes to injured veterans. We believe in giving back to those who have sacrificed so much for our country, and we want you to be a part of this noble cause.
With every transaction involving buying or selling homes, we commit to donating a portion of our income to the Tunnel to Towers Foundation. By choosing us as your trusted real estate partner, you're not only receiving exceptional service but also contributing to the well-being of our heroes.
But that's not all! We need your help to make an even greater impact. When you refer clients to us, you're not only helping them navigate their real estate journey smoothly but also joining us in supporting our veterans. Each referral you send our way becomes another opportunity to give back.
Let's make a difference together!
I want to make it easy to refer your friends, neighbours, associates, or family members considering making a move, so here are your options:
You can go to www.HelpUsHelpTheHeroes.com and enter their contact info online or forward the link to whom you know considering a move.
Of course, you can always call me direct as well at 813-359-0880
.
Over a decade of helping hundreds of families sell their homes and/or buy another, we have met some wonderful, loving, caring people. People like you! So those you know considering a move that we help you have my word that we will do our very best in helping them buy or sell the place they call home.
Ernest Van Glahn
Selling Your Home and Getting Top Dollar!
Call me TODAY for a free consultation.
813-359-0880