Thousands Join the 22nd Annual Tunnel to Towers 5K Run & Walk
Posted by Ernest Van Glahn on Wednesday, October 4, 2023 at 9:05:40 PM
By Ernest Van Glahn / October 4, 2023
Comment
Unyielding Unity: Thousands Join the 22nd Annual Tunnel to Towers 5K Run & Walk
Every year, amidst the rain or shine, a remarkable event unfolds, bringing together thousands of individuals with a shared purpose and unyielding determination. It's the 22nd annual Tunnel to Towers 5K Run & Walk, a testament to the enduring spirit of honor and remembrance. This event transcends mere athleticism; it's a powerful tribute to heroes, a journey through history, and a beacon of hope for those who have made the ultimate sacrifice. Join us as we delve into the heart of this incredible event, where thousands of feet pound the pavement, echoing the resounding commitment to never forget.
Step into the shoes of the thousands who braved the rain on that memorable Sunday, standing shoulder to shoulder in solidarity for the 22nd annual Tunnel to Towers 5K Run & Walk.
Read related: Honoring Heroes and Remembering 9/11
Today, you have the opportunity to be part of this incredible movement as well. Our company proudly supports the Tunnel to Towers Foundation by pledging a significant portion of our income from homes sold to this noble cause.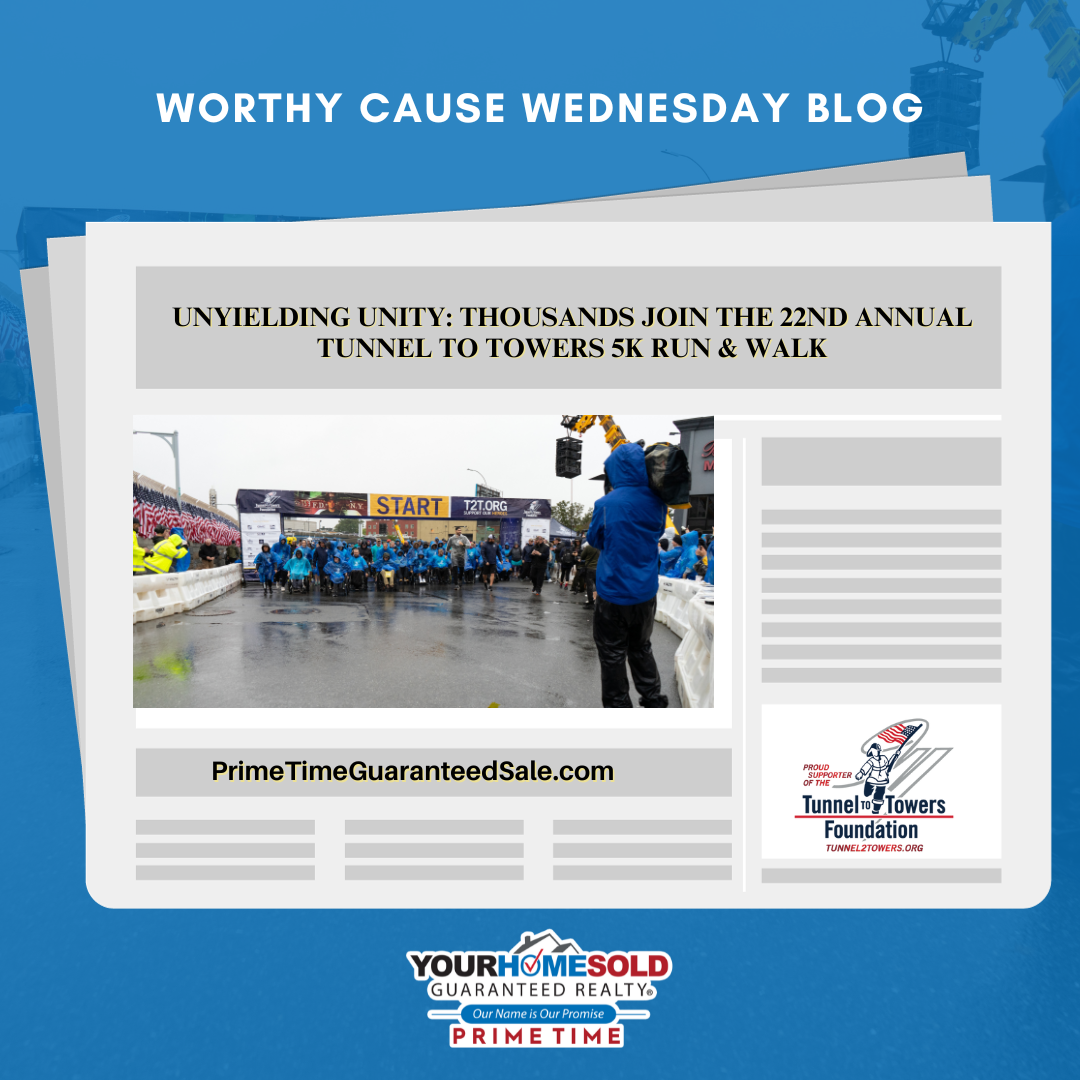 Picture the scene as participants gathered in Red Hook, undeterred by the raindrops that pelted down from the sky. Their determination was unwavering as they embarked on a journey that would take them through the iconic Brooklyn Battery Tunnel, ultimately leading to lower Manhattan.
The atmosphere was electric, and as Frank Siller, the CEO, and chairman of the Tunnel to Towers Foundation, put it, "This is the way that everyone's looking at it; If these great heroes are willing to take a bullet for us, we could take a few raindrops for them to come out here and honor them and make sure that we never forget."
The route itself holds deep historical significance, retracing the steps of FDNY firefighter Stephen Siller on that fateful September 11th. On that day, Stephen raced to the Twin Towers on foot, fully geared, with one mission in mind - to save lives. In a deeply moving tribute, first responders completed the 5K in their own gear, paying homage to his heroic sacrifice.
Also Read: A 911 Tribute with Ernest Van Glahn and Chris Colon Tunnel To Towers Foundation
FDNY firefighter Kevin Davis shared his poignant thoughts after completing the 5K, saying, "I'm thinking about when I was in seventh grade, when 9/11 happened, and now I'm a full-fledged fireman. It's an honor and a privilege to do this." Frank Siller, reflecting on the event, remarked, "It's a bittersweet day for me. It's sad, of course, because, you know, 22 years ago, my brother gave his life up by running through this tunnel, you know, with 60 pounds of gear on his back. But through his last heroic final footsteps, the foundation was born from this."
The mission of the Tunnel to Towers Foundation is truly remarkable, reaching out with compassion to provide mortgage-free homes to families of first responders across the nation who have made the ultimate sacrifice in the line of duty. One of these beneficiaries, Jessica Edeburn, shared her deeply touching story, saying, "I was holding my baby and panicking about everything that was going to come, and about six months after he passed, I got a call from the tower saying that they were getting on my mortgage."
This event serves as a powerful reminder of the lives lost due to the September 11th attacks. Although 22 years have passed, the impacts of that day continue to reverberate through our society. Frank Siller emphasized, "I want everyone to remember that it's not over yet, number one, because we just had the 343rd firefighter just die of 9/11 illness. Why is that number so significant? It's big, right? It's a tremendous number. But it was the exact amount of firefighters that died on 9/11. So it's a terrorist attack that keeps on taking lives."
Read: Avoiding 'The Ick': 7 Things About Your House That Can Turn Off Buyers
Despite the challenges and the passage of time, the mission of the Tunnel to Towers Foundation continues to make a profound impact, having already paid for over a thousand mortgages, providing a glimmer of hope and security to grieving families. Jessica Edeburn beautifully summed up the sentiment, saying, "When Tunnel to Towers called, it felt like he was taking care of me for the last time. And I know that he's happy knowing that, and I get the life that the two of us always dreamed we would have."
So, we invite you to join us in supporting this remarkable cause. Every home we sell contributes to providing a brighter future for the families of our fallen heroes. Let's make a lasting difference together, ensuring that the legacy of these brave individuals lives on, and their sacrifices are never forgotten. Together, we can build a future where heroes are honored and their families are supported, one home at a time.
Our Worthy Cause: Supporting Our Fallen Heroes
At Your Home Sold Guaranteed Realty Prime Time, we are proud supporters of the Tunnel to Towers Foundation and their mission to provide mortgage-free smart homes to injured veterans. We believe in giving back to those who have sacrificed so much for our country, and we want you to be a part of this noble cause.
With every transaction involving buying or selling homes, we commit to donating a portion of our income to the Tunnel to Towers Foundation. By choosing us as your trusted real estate partner, you're not only receiving exceptional service but also contributing to the well-being of our heroes.
But that's not all! We need your help to make an even greater impact. When you refer clients to us, you're not only helping them navigate their real estate journey smoothly but also joining us in supporting our veterans. Each referral you send our way becomes another opportunity to give back.
Let's make a difference together!
I want to make it easy to refer your friends, neighbours, associates, or family members considering making a move, so here are your options:
You can go to www.HelpUsHelpTheHeroes.com and enter their contact info online or forward the link to whom you know considering a move.
Of course, you can always call me direct as well at 813-359-0880
.
Over a decade of helping hundreds of families sell their homes and/or buy another, we have met some wonderful, loving, caring people. People like you! So those you know considering a move that we help you have my word that we will do our very best in helping them buy or sell the place they call home.
Ernest Van Glahn
Selling Your Home and Getting Top Dollar!
Call me TODAY for a free consultation.
813-359-0880