Texas Air Force Veteran Smart Home Renovations
Posted by Ernest Van Glahn on Wednesday, October 11, 2023 at 9:54:06 PM
By Ernest Van Glahn / October 11, 2023
Comment
Rebuilding Independence: Tunnel to Towers Foundation's Texas Air Force Veteran Smart Home Renovations
In the heart of Texas, a remarkable transformation is taking place as the Tunnel to Towers Foundation unveils cutting-edge smart home renovations for a deserving Air Force veteran. This project is not just about rebuilding a house; it's a testament to the enduring support and gratitude our nation has for those who have served. Join us as we explore how this foundation is changing lives and rekindling the American promise in the Lone Star State.
In a profoundly moving and heartfelt ceremony, the Tunnel to Towers Foundation recently welcomed Air Force Captain Tonya Andrews back to her cherished home in the serene town of Argyle, Texas. This emotional event was made even more special as it was hosted by none other than USMC Corporal Patrick Myers, a recipient of a Tunnel to Towers smart home himself. Corporal Myers had some incredible news to share with Captain Andrews, news that would forever alter the course of her life.
Read related: Thousands Join the 22nd Annual Tunnel to Towers 5K Run & Walk
In a gesture of extraordinary generosity, the Tunnel to Towers Foundation didn't just renovate Captain Andrews' home; they also took on the monumental task of paying off her mortgage. Overwhelmed with gratitude and emotion, Captain Andrews shared, "To have a permanent, safe place to call home is the biggest stress relief I can imagine."
Captain Andrews' journey of service and sacrifice began when she joined the ROTC program in 1998, a journey that eventually led her to enlist in the United States Air Force in 2002. Her decision to serve her country was unwavering and deeply rooted, further solidified by the tragic events of 9/11. She dedicated herself to defending the nation she loved.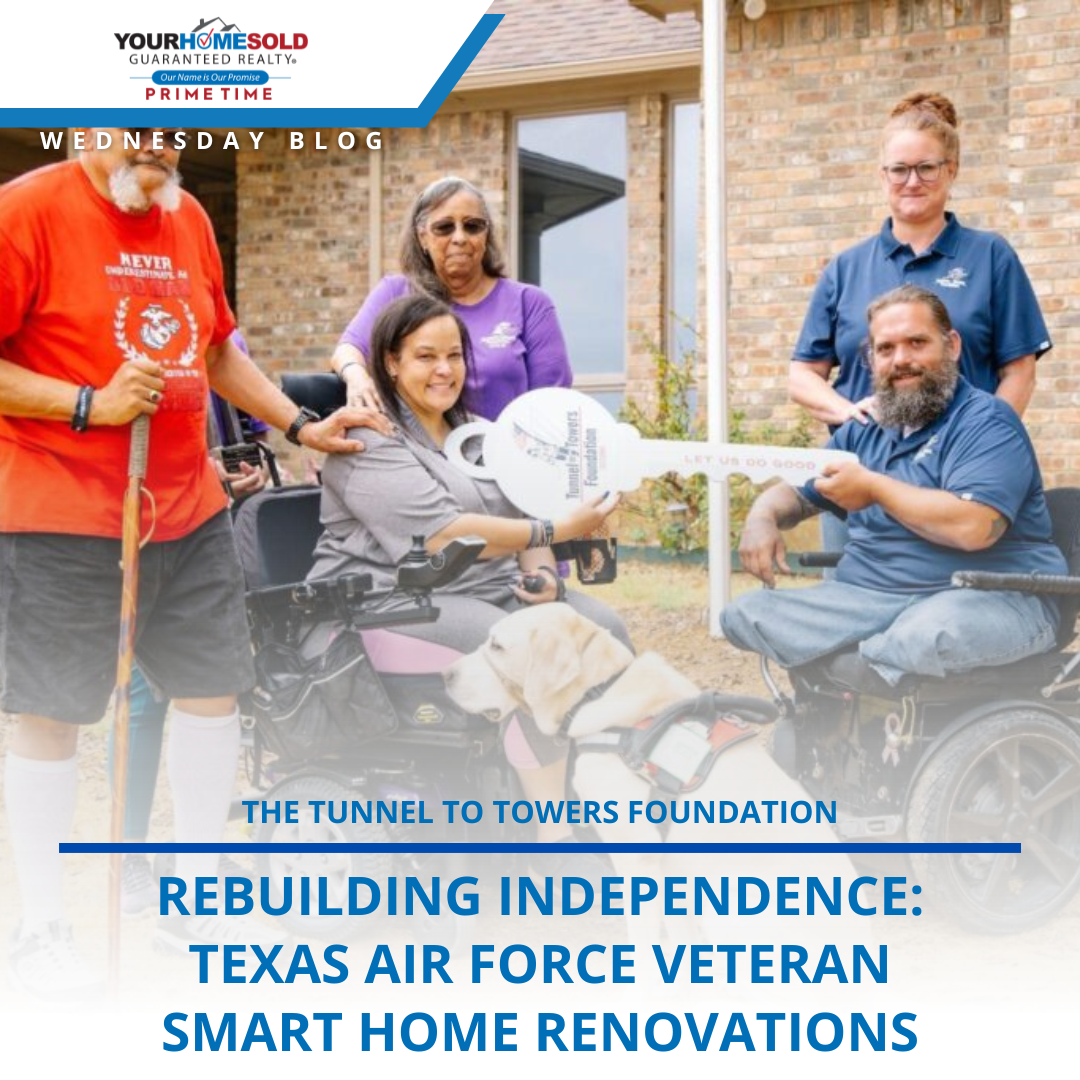 During her time in the Air Force, Captain Andrews served with the 388th Aircraft Maintenance Squad and the 386th Expeditionary MX Group. She demonstrated remarkable bravery and commitment, deploying to Kuwait during the pivotal operations of Enduring Freedom and Iraqi Freedom.
However, life took an unexpected turn when Captain Andrews was diagnosed with service-connected multiple sclerosis in 2005, a diagnosis that left her temporarily paralyzed. It was a profound challenge, one that led her to make the difficult decision to medically retire from the Air Force in 2008. Despite the immense hurdles, her unwavering spirit and years of diligent rehabilitation ultimately enabled her to regain the ability to walk short distances.
Also Read: Honoring Heroes and Remembering 9/11
The Tunnel to Towers Smart Home Program emerged as a beacon of hope and support in Captain Andrews' life. They undertook the monumental task of meticulously renovating her home into a specially adapted, smart home. This transformation was not just about bricks and mortar; it was about restoring her sense of independence and dignity.
Wheelchair ramps, motorized exterior doors, and a brand-new concrete walkway from her home to the barn have transformed her accessibility. Inside her home, the foundation remodeled the master bathroom and bedroom to make them entirely wheelchair-accessible. Newly installed smart home technology now grants her the ability to control essential features like lights, thermostat, and security through a convenient smartphone app.
These changes have had an immediate and profound impact on Captain Andrews' daily life. She expressed her deep gratitude, saying, "It's heartwarming to know that there are still people in this country who care about their fellow Americans. Tunnel to Towers took a close look at my life and made renovations that gave me back an independence that I thought I had lost forever."
Frank Siller, the esteemed Chairman and CEO of the Tunnel to Towers Foundation, celebrated Captain Andrews' unwavering dedication to her country and expressed his deep commitment to ensuring that she can remain in her home for as long as she desires. He recognized that these renovations are not just about physical changes but a way to significantly improve the quality of her daily life.
Read: A 911 Tribute with Ernest Van Glahn and Chris Colon Tunnel To Towers Foundation
The Tunnel to Towers Foundation is on a mission to ensure that the sacrifices made by our military heroes and first responders are never forgotten. By supporting their work, you have the extraordinary opportunity to make a tangible and lasting difference in the lives of heroes like Captain Tonya Andrews.
In a move that embodies our commitment to this noble cause, we invite you to actively participate in our pledge to donate a portion of the income from homes sold to the Tunnel to Towers Foundation. Your support is instrumental in making a tangible impact, as together, we can help more heroes regain their independence and find solace and comfort in the embrace of their own homes. Join us in this noble endeavor and be a part of a legacy that will forever honor those who have given so much for their country.
Our Worthy Cause: Supporting Our Fallen Heroes
At Your Home Sold Guaranteed Realty Prime Time, we are proud supporters of the Tunnel to Towers Foundation and their mission to provide mortgage-free smart homes to injured veterans. We believe in giving back to those who have sacrificed so much for our country, and we want you to be a part of this noble cause.
With every transaction involving buying or selling homes, we commit to donating a portion of our income to the Tunnel to Towers Foundation. By choosing us as your trusted real estate partner, you're not only receiving exceptional service but also contributing to the well-being of our heroes.
But that's not all! We need your help to make an even greater impact. When you refer clients to us, you're not only helping them navigate their real estate journey smoothly but also joining us in supporting our veterans. Each referral you send our way becomes another opportunity to give back.
Let's make a difference together!
I want to make it easy to refer your friends, neighbours, associates, or family members considering making a move, so here are your options:
You can go to www.HelpUsHelpTheHeroes.com and enter their contact info online or forward the link to whom you know considering a move.
Of course, you can always call me direct as well at 813-359-0880
.
Over a decade of helping hundreds of families sell their homes and/or buy another, we have met some wonderful, loving, caring people. People like you! So those you know considering a move that we help you have my word that we will do our very best in helping them buy or sell the place they call home.
Ernest Van Glahn
Selling Your Home and Getting Top Dollar!
Call me TODAY for a free consultation.
813-359-0880