Reigncane Vodka Pledges Support: Raising Spirits and Homes for Heroes
Posted by Ernest Van Glahn on Wednesday, August 16, 2023 at 1:00 PM
By Ernest Van Glahn / August 16, 2023
Comment
In a world where spirits are more than just the liquid in your glass, Reigncane Vodka emerges as a symbol of compassion and camaraderie. Beyond its smooth taste and elegant allure lies a commitment that transcends the boundaries of tradition. The partnership between Reigncane Vodka and the Tunnel to Towers Foundation is a testament to the profound impact that a drink can have on lives. As this exceptional vodka flows, so does its promise to stand with the heroes who ran towards danger on 9/11, and the families they left behind. Join us in raising not just a glass, but also the banner of support, as we toast to unity and the unyielding spirit of giving back.
Read related: Empowering Independence: Transforming an Injured Veteran's North Florida Home into a Smart Haven
Supporting the Tunnel to Towers Foundation is as easy as raising a glass to compassion. If you're a fan of Reigncane Vodka, you're already part of something bigger. With every bottle you enjoy – whether at a store or online – a portion of the proceeds goes towards this honorable cause.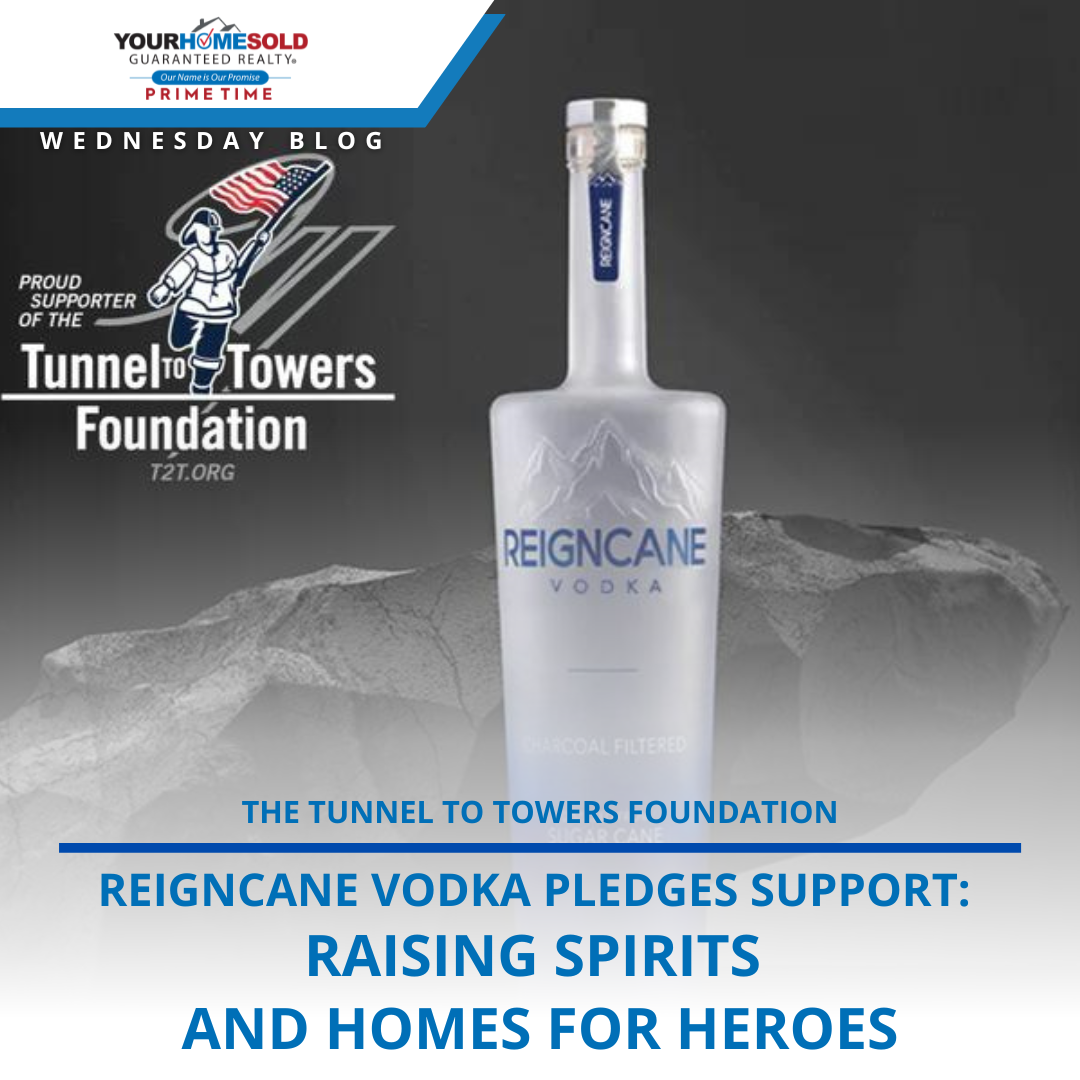 When you shop online, use the code T2T at checkout, and Reigncane Vodka will donate $5.00 for each bottle sold. If you're browsing liquor stores, keep an eye out for Reigncane Vodka; for every case sold, $9 will be contributed to the Tunnel to Towers Foundation.
Behind this generous commitment are the co-founders of Reigncane Vodka, Michael and Brian Eckert, driven by the desire to give back to the brave first responders and service members who shape our nation's greatness. Brian Eckert passionately states, "Reigncane Vodka has turned into something greater than just a fantastic vodka. It's bigger than me and my dreams now… we get to make a real impact in other people's lives."
Also Read: Honoring Our Heroes: The Heroes Cup Hockey Tournament
This partnership with the Tunnel to Towers Foundation reflects an opportunity for every shopper to support those who serve. Frank Siller, Chairman and CEO of the Foundation, emphasizes, "This commitment from Brian and Michael will give shoppers an opportunity to show their appreciation and support for America's Heroes."
Reigncane Vodka's goal extends further – they aim to cover all costs associated with constructing a home through the Tunnel to Towers' Smart Home Program. This program creates mortgage-free smart homes tailored to the needs of catastrophically injured veterans and first responders, restoring some of their daily independence.
Crafted from organic sugar cane, Reigncane Vodka offers a hint of sweetness, smoothed through organic coconut husk charcoal, and perfected with pure Alaskan water. To be a part of this mission and enjoy a sip of kindness, visit Reigncane Vodka, and remember to use code T2T at checkout.
Read: The Tunnel to Tower Foundation Pays Off Mortgage for Late Police Officer Vincent Parks' Family
Join Reigncane Vodka in their noble quest as they contribute to the Tunnel to Towers Foundation, bringing smart homes to our injured veterans and first responders. Let's ensure that America never forgets their sacrifices.
Our Worthy Cause: Supporting Our Fallen Heroes
At Your Home Sold Guaranteed Realty Prime Time, we are proud supporters of the Tunnel to Towers Foundation and their mission to provide mortgage-free smart homes to injured veterans. We believe in giving back to those who have sacrificed so much for our country, and we want you to be a part of this noble cause.
With every transaction involving buying or selling homes, we commit to donating a portion of our income to the Tunnel to Towers Foundation. By choosing us as your trusted real estate partner, you're not only receiving exceptional service but also contributing to the well-being of our heroes.
But that's not all! We need your help to make an even greater impact. When you refer clients to us, you're not only helping them navigate their real estate journey smoothly but also joining us in supporting our veterans. Each referral you send our way becomes another opportunity to give back.
Let's make a difference together!
I want to make it easy to refer your friends, neighbours, associates, or family members considering making a move, so here are your options:
You can go to www.HelpUsHelpTheHeroes.com and enter their contact info online or forward the link to whom you know considering a move.
Of course, you can always call me direct as well at 813-359-0880
.
Over a decade of helping hundreds of families sell their homes and/or buy another, we have met some wonderful, loving, caring people. People like you! So those you know considering a move that we help you have my word that we will do our very best in helping them buy or sell the place they call home.

Ernest Van Glahn
Selling Your Home and Getting Top Dollar!
Call me TODAY for a free consultation.
813-359-0880