Home values in ZIP codes with a higher share of children younger than 18 are growing faster than home values elsewhere in the same county, in large part due to demand from millennials looking for homes that meet the needs of their growing families.

More millennials will reach the age of 32, the peak age for first-time home buyers, over the next two years than ever before.
Home values are growing fastest in areas with the highest share of children,1 reflecting the impact millennial house hunters are having on family-friendly neighborhoods with a shortage of homes for sale. A record number of millennials will reach key age milestones for buying homes over the next two years, which may accelerate price gains even further.
The top 10% of ZIP codes with the largest share of children in each county analyzed saw an average of 21.3% growth from October 2020 to October 2021, compared to 17.6% in ZIP codes with the smallest share of kids.2 That trend started in 2013 – also the year the oldest millennials turned 32. That's the median age of first-time home buyers3 and one year older than the median age of fathers with newborns.4
Zillow analyzed 421 U.S. counties,5 representing 71% of the country's population. ZIP codes with a larger share of residents under 18 years old6 are associated with faster home value growth in nearly two-thirds of the counties studied. Many of the counties where this relationship does not hold are vacation destinations, where part-time residents have unconventional housing demands. Home value growth in these family-friendly areas began to outpace nearby ZIP codes in 2013, and the correlation between kids and home value growth has been nearly perfect in every year since 2017.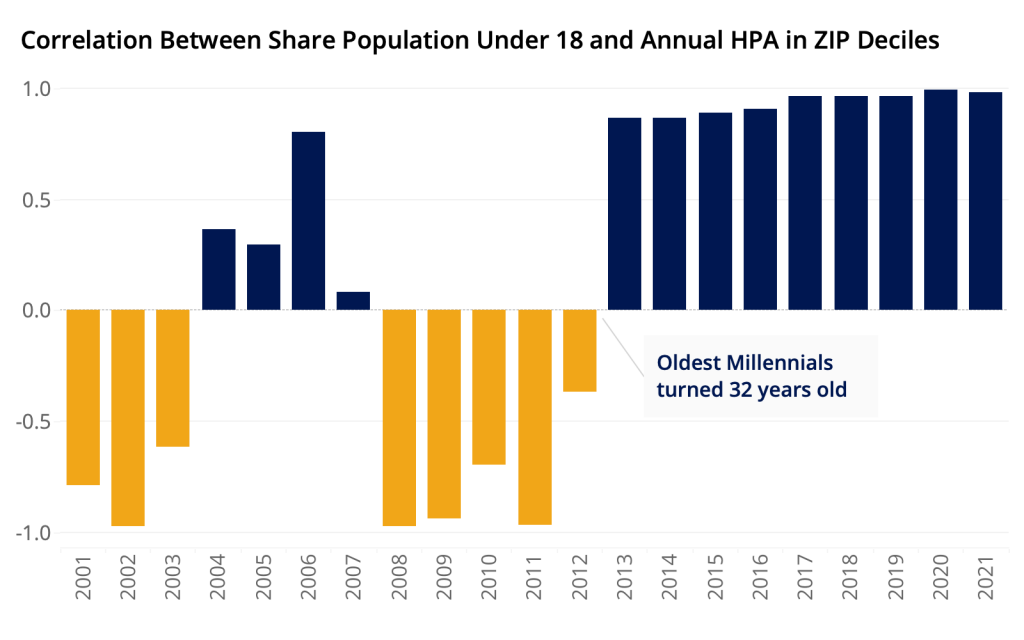 This effect is strongest in counties that encompass the cities of Norfolk, Virginia; Washington, D.C.; Portland, Oregon; Austin, Texas; and Seattle. In the D.C. area, for example, home value growth in the area's most family-friendly ZIP codes approached or exceeded 15% between October 2020 and October 2021, while growth in the most adult-oriented ZIPs was non-existent or slightly negative during this period. The correlation between the ZIP codes' share of residents younger than 18 and HPA in DC is extremely high, 0.92.
Counties where this trend does not hold true include those encompassing Galveston, Texas; Santa Barbara, California; and Ocean City, New Jersey.
A Snowball, then an Avalanche
In 2013, that first wave of early-30s millennial home buyers had the benefit of discounted home prices in family-friendly ZIPs in the wake of the Great Recession. Setting the index value of all deciles to 100 in 2000 – a "normal" year in housing that preceded the extraordinary swings of the housing boom, bust and recovery – we find that homes in each decile appreciated at nearly identical rates between 2000 and 2006, just prior to the housing crash. But during the crash, home values in the most family-friendly ZIP decile slumped the most. Following the crash and assisted by a swelling wave of house-hunting Millennials, home value growth in family-friendly ZIP codes then began to outpace their adult-oriented neighbors. Today, after two topsy-turvy decades, annualized growth rates since 2000 in all deciles have harmonized.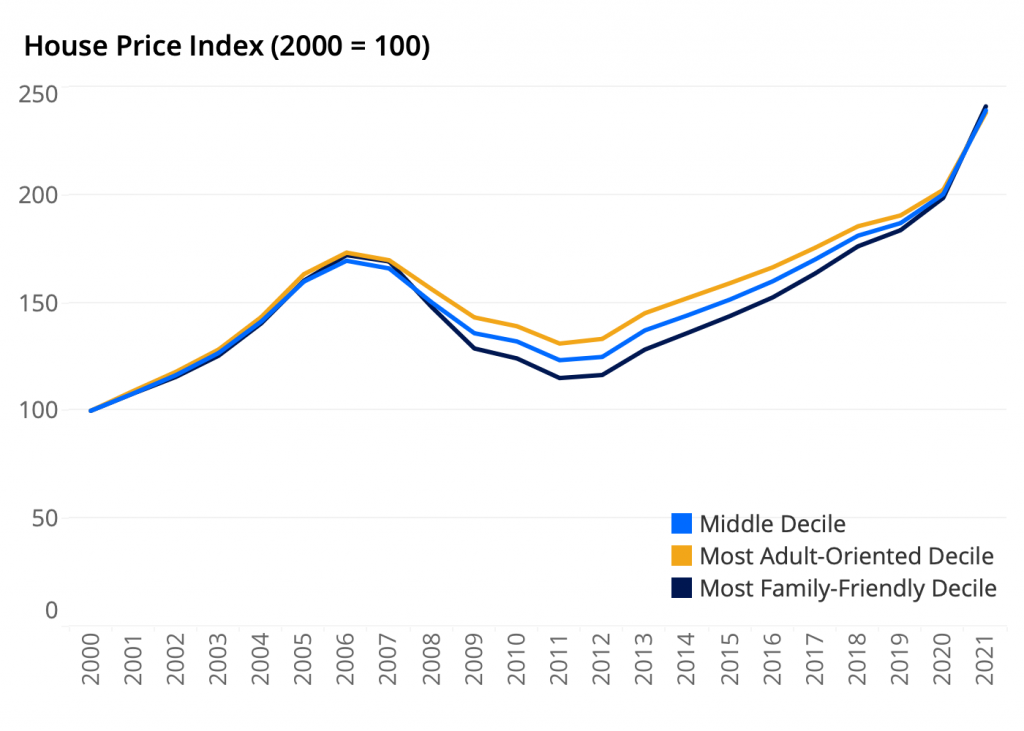 Today's first-time home buyers are encountering a much different market, especially as home price growth has reached record highs during the pandemic. And while overall home value growth is likely to retreat somewhat from these record highs, the competition fueling much of that record growth is unlikely to fade much as the snowball of millennials reaching peak age for first-time home buyers verges on becoming an avalanche. In 2021, there were nearly 200,000 more 31 year-olds in the United States than 32 year-olds; 2022 will feature the biggest increase in the number of house-hunting 32 year-olds since the transition from Generation X to Millennials, and this population will rise a bit higher in 2023. This demographic reality should fuel even faster price growth in family-friendly ZIP codes over at least the next two years, making saving for a down payment even more challenging for first-time buyers.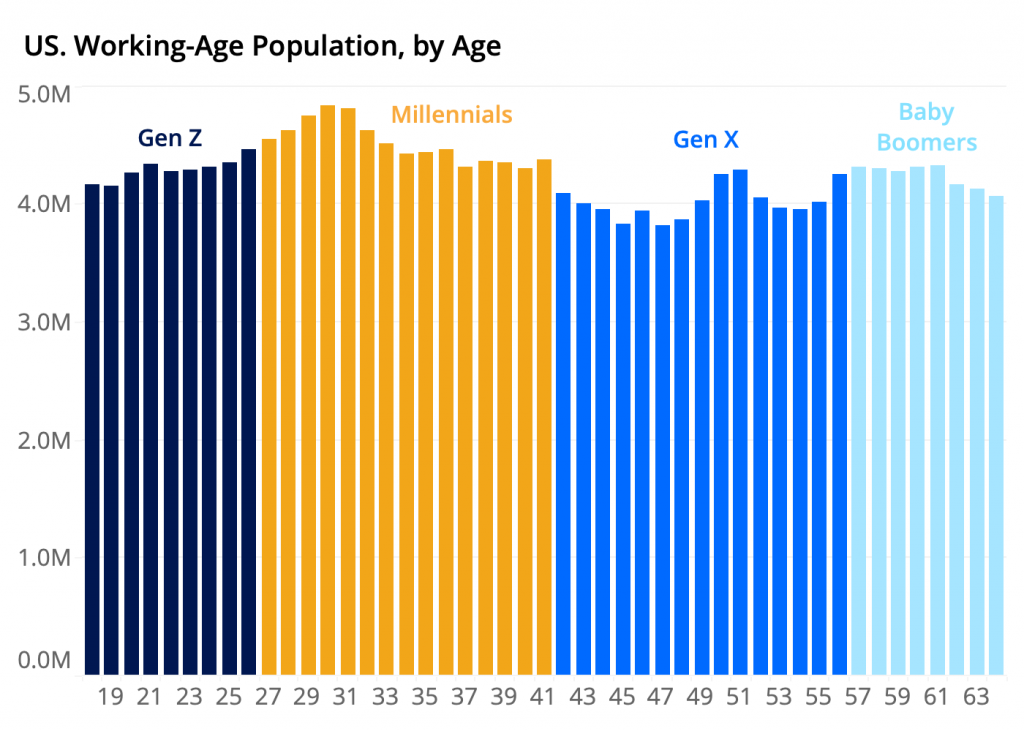 Premiums & Discounts
This long standing home value appreciation advantage that homeowners in family-friendly neighborhoods have enjoyed shows no sign of waning – and may be intensifying. Since the second quarter of 2017, the positive correlation between the share of population under 18 and home value growth has been almost perfect, greater than 0.95, every quarter, and throughout 2021 this correlation remained exceptionally high.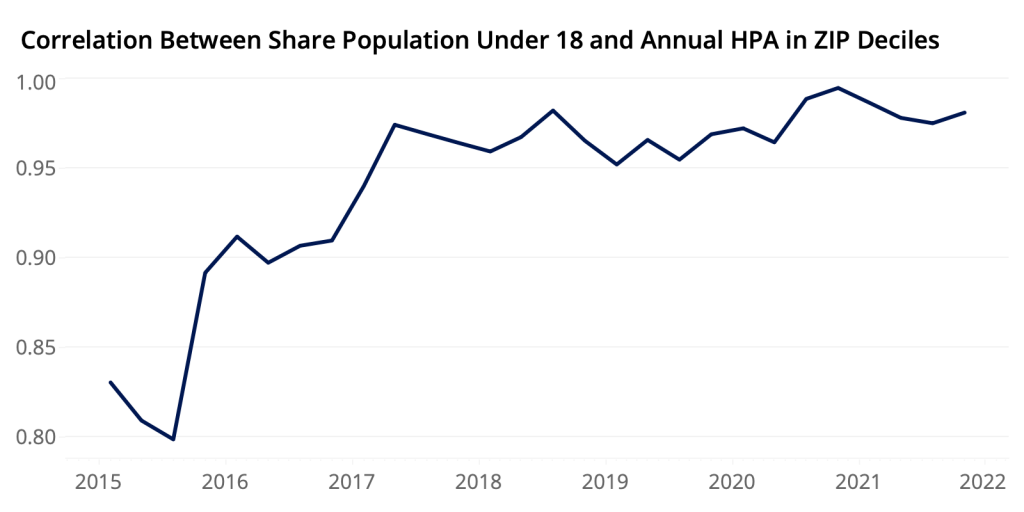 In the most recent quarter (2021Q4), home sellers in the most family-friendly decile enjoyed a 1.6 percentage point "premium" in home value growth, while homebuyers in the most adult-oriented decile got a 2.1 percentage point "discount."7 The difference in HPA between the lowest and highest deciles is 3.7 percentage points.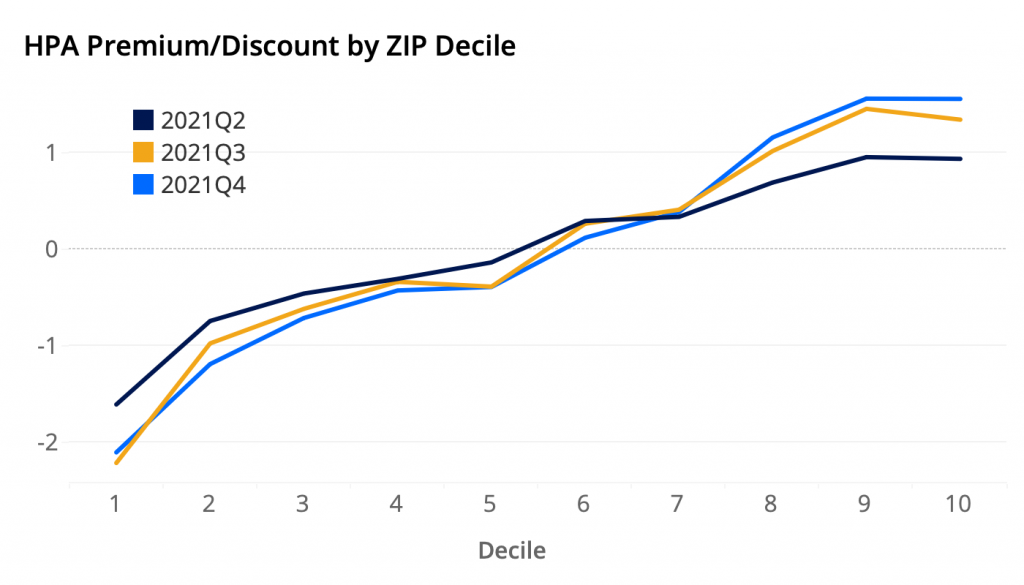 But six months ago, this premium and discount were smaller, and the difference in HPA between the most family-friendly and adult-oriented deciles was only 2.6 percentage points. More Millennial home buying will cause this difference to widen even further over the next several quarters. Though home values in family-friendly ZIP codes have now caught up to their adult-orientated neighbors, homeowners in family-friendly neighborhoods will continue to enjoy above-average appreciation because these ZIP codes can command a premium.
Continuing the Squeeze
As millennials go, so goes the housing market, and we are seeing now, as millennials age, that they are looking for homes that fit the needs of growing families. Millennial demand has helped push up home prices in areas with the most children. Competition for homes in these family-friendly areas should intensify in the coming years as more millennials reach the key age of 32, adding to the affordability squeeze.
Family-friendly neighborhoods will maintain these higher valuations for a generation as Millennials raise their children and advance in their careers. During this time, local municipalities can spread the wealth by adding family-friendly facilities such as parks, playgrounds and schools to ZIP codes that currently lack these amenities.
Methodology
In order to confirm this nationwide tendency, we reviewed all 421 counties in our sample. Though this represents just a small fraction of the more than 3,100 counties in the U.S., 71% of Americans reside in one of these densely populated jurisdictions. We divided the ZIP codes for each of these counties into deciles based on the ZIP code's share of the population that was under 18 in 2019. The lowest decile, which is the most adult-oriented, represents ZIPs where this share was in the bottom 10% of its county, the second-lowest decile measures the next 10%, and so on.
We then averaged the share of the population under 18 and HPA for each decile, regardless of county. This technique helps to control for observed and unobserved county-level effects, which include varying state and municipal government tax and spending policies, idiosyncratic characteristics of the local labor market, and meteorological, topographical or geographical differences.
---
1 On average across the most family-friendly ZIP decile, 29.5% of the population was younger than 18 in 2019.
2On average, the share of the population less than 18 years old in the most adult-oriented decile was 14.4% in 2019.
3Consumer Finance Protection Bureau: https://files.consumerfinance.gov/f/documents/cfpb_market-snapshot-first-time-homebuyers_report.pdf
4Human Reproduction, Volume 32, Issue 10, October 2017, Pages 2110–2116: https://academic.oup.com/humrep/article/32/10/2110/4096427.
5Every U.S. county with at least 10 ZIP codes containing 1,000 households or more was included in the study. This threshold was imposed to ensure a sufficient sample of homes and ZIP codes in each county.
6Estimates of each ZIP code's share of population under 18 years old come from the U.S. Census Bureau's 2019 American Community Survey five-year estimates.
7HPA in the most family-friendly (10th) decile is 1.6 percentage points faster than the average rate, while HPA in the most adult-oriented (first) decile is 2.1 percentage points slower.