May 2020 Homeward Bound Newsletter
Posted by Ernest Van Glahn on Tuesday, May 5, 2020 at 1:19 PM
By Ernest Van Glahn / May 5, 2020
Comment

Just about every May , we sit down to write Homeward Bound; We write about Mom's Day. And why not… it is a very special day for very special people.
Our Mom used to tell me, seemingly repeatedly, to do this and do that, not to do this and not to do that. ALL, we recall, very valuable advice. Looking back on it all these many years later, we can say she was, and still is, a very wise woman.
Time reveals, in fact, just about every caring Mother is a Wise Woman. We can see why we carve out a special day each year to acknowledge Moms. So here is a shout out to all Mom's – Happy Mother's Day!!
My Mother's Birthday is May 10th which somehow seems to fall on or very close to Mother's Day each year. So, she gets double the hugs and appropriate accolades every May from my Sister and me.
Unfortunately, My Mom's Mom is no longer here. I am sure that makes her very sad this time of year. I am sure some reading this can relate and have similar stories. For ALL those whose Mom is no longer with us, may you remember the best about them. In addition to that, there are also many who never knew their Mom due to unfortunate circumstance. I bet someone played that roll in their life and they too deserve a Happy Mother's Day!
Regardless, we can celebrate this Mother's Day knowing Moms both here and no longer here are special in more ways than we can count.
Especially… the Moms being helped by MUST Ministries.
Through our Go Serve Big mission statement we are on a quest to raise $10,000 for STEPHEN SILLER TUNNEL TO TOWERS FOUNDATION in 2020! For 19 years, STEPHEN SILLER TUNNEL TO TOWERS FOUNDATION has established itself as a foundation that helps our modern heroes such as Policemen, First Responders, and Firefighters. The mission of this foundation is to support our First Responders, Firefighters and members of our military that are killed or seriously injured in the line of duty.
You can help us help our heroes by your referrals. So if you or anyone you know is planning to sell or buy a home, please send them our way. For every successful sale or transaction, a portion of our income will go to this very worthy foundation.
The mission of The Stephen Siller Tunnel to Towers Foundation is to honor the sacrifice of Firefighter Stephen Siller who laid down his life to save others on September 11, 2001.
We also honor our Military and First Responders who continue to make the supreme sacrifice of life and limb for our country. They help our most severely injured heroes live better, more independent lives. The Stephen Siller Tunnel To Towers Foundation leads the way in restoring lives.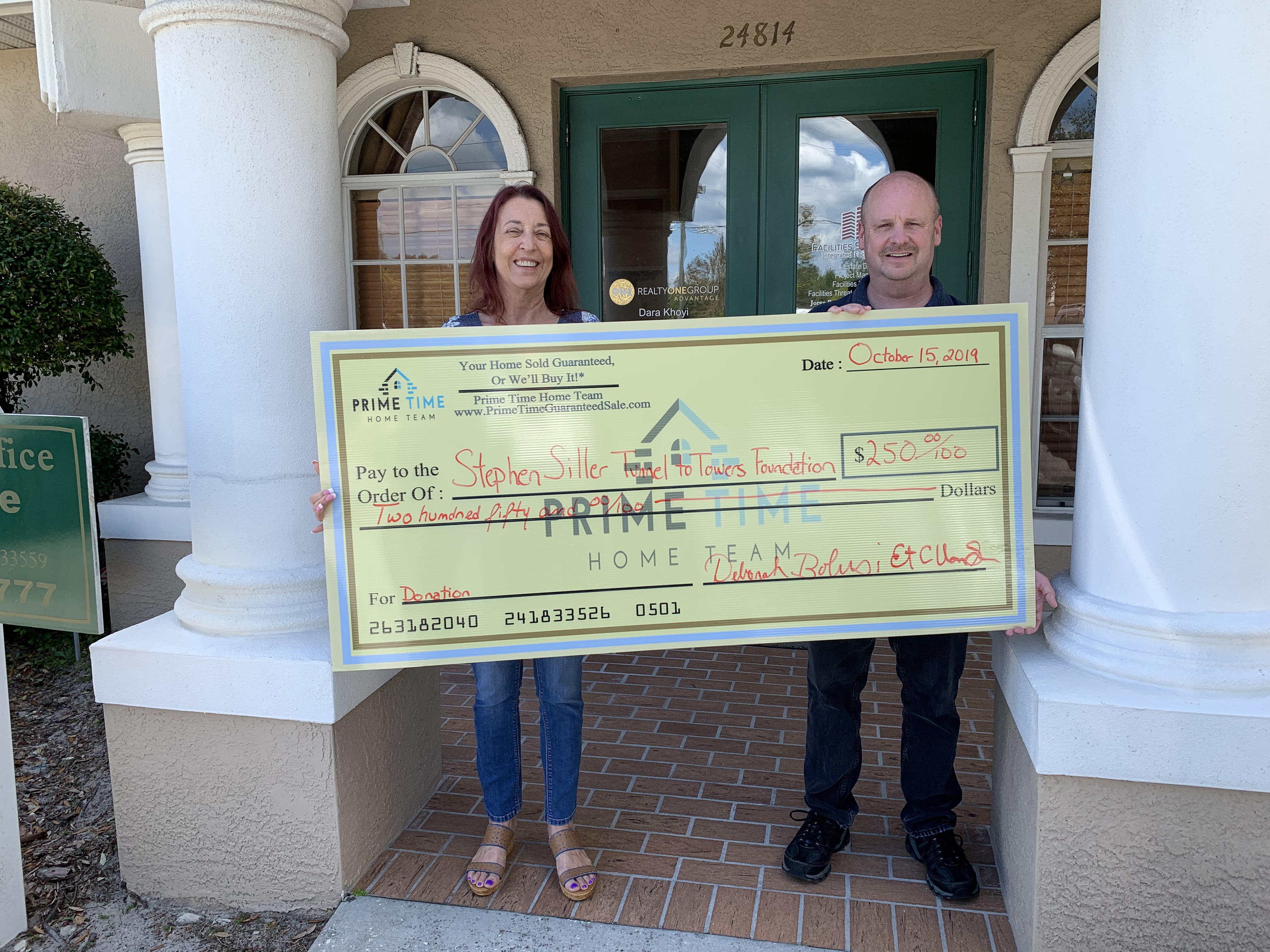 Most don't know though that Stephen Siller Tunnel To Towers Foundation is a non-profit. They depend on sponsorships and donations to deliver their world class assistance to our heroes in need!
This year, we are on a mission to raise $10,000 for Stephen Siller Tunnel To Towers Foundation. We do this by donating to them a portion of our income from homes we sell.
So, when you or anyone you know buys or sells the place they call home with us, we deliver on our exclusive guarantees and award-winning service AND a very worthy cause benefits as well.
To refer anyone considering buying or selling a home just give us a call or pass on our number. That number is 813-359-0880.
Thank you in advance for your referrals!
Over the last 10 years of helping many families sell or buy the place they call home, we have met so many wonderful, loving, caring people. We are so grateful. Thank you for reading over this month's Homeward Bound and thank you for referring anyone you know considering buying or selling to my team. They will be in good hands and a very worthy cause will benefit as well.
Go Serve Big!!!