How a 9/11 Charity Restored a Union Beach Home Damaged by Sandy
Posted by Ernest Van Glahn on Wednesday, November 1, 2023 at 11:51 AM
By Ernest Van Glahn / November 1, 2023
Comment
Rescuing a Veteran's Dream: How a 9/11 Charity Restored a Union Beach Home Damaged by Sandy
In the aftermath of Hurricane Sandy, a Veteran's Union beach home faced fatal flaws. Yet, a glimmer of hope emerged when a 9/11 charity stepped in, offering a free fix. This act not only repaired the physical damage but also symbolized solidarity and gratitude towards our nation's heroes. It's a story of a community's resilience, compassion, and a remarkable gesture honoring those who've served our country.
Read related: Meet the Dynamic Duo Joining the Tunnel to Towers Student-Athlete Advocate Team
Imagine being a Marine Corps veteran, like Ben Webb, returning home after serving four tours in Iran and Afghanistan. You set your sights on what appeared to be your dream home in Union Beach, only to discover that it had sustained significant damage during Superstorm Sandy. The house had sunk, leading to a series of nightmarish foundation issues.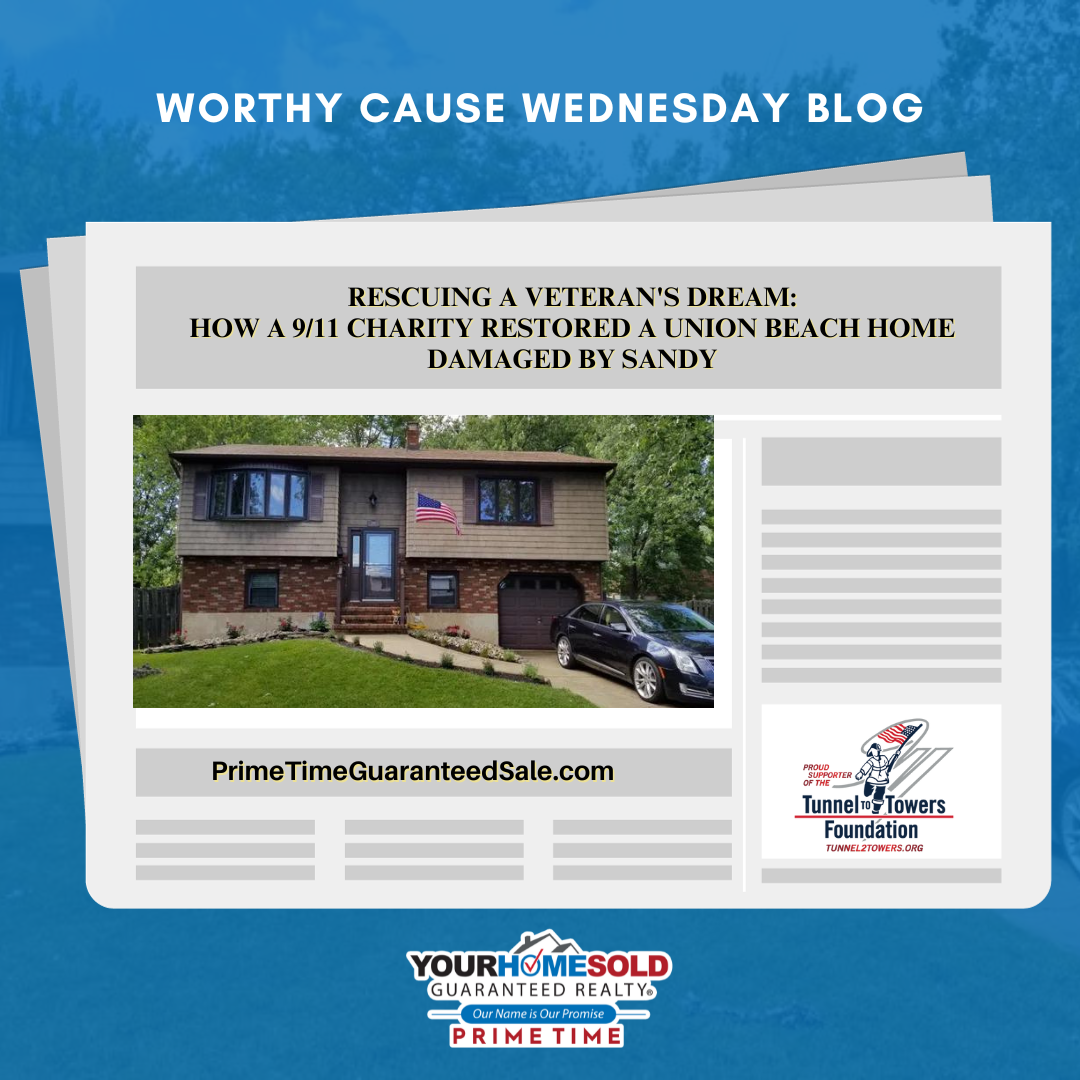 Faced with this devastating situation, you put your hard-earned savings into repairs, hoping to make your house a safe and secure haven. However, your efforts were in vain, as the contractor's work was poorly executed, ultimately condemning your home.
Also Read: Tunnel to Towers Foundation Pays Off Fallen Knox County Deputy's Mortgage
But then, a glimmer of hope appears in the form of the Tunnel to Towers Foundation. This remarkable organization, inspired by the heroic Stephen Siller, who rushed through the Brooklyn Battery Tunnel on 9/11 with 60 pounds of gear to respond to the Twin Towers' devastation, builds custom-designed "smart homes" for veterans and first responders like you.
Through their unwavering support, you not only received a new home but also a renewed sense of belonging and security. Thanks to Tunnel to Towers, your new home is tailored to your needs, complete with advanced technology like automatic doors and a sophisticated security system, making your daily life more manageable despite your injuries.
The impact of this organization, fueled by generosity and compassion, goes beyond providing physical shelter. Tunnel to Towers turned your tragedy into a heartwarming miracle and created a new family for you. Their dedication to serving those who've served their country is truly remarkable.
Read: Texas Air Force Veteran Smart Home Renovations
By supporting the Tunnel to Towers Foundation, you can become part of this life-changing mission. Your contribution will not only help rebuild homes but also rebuild lives, providing comfort to those who have sacrificed so much for our safety and well-being.
Join us in making a significant difference today. Your support will be a beacon of hope and resilience for those who need it most. Together, we can honor the heroes who have given so much and ensure they have a place to call home.
Our Worthy Cause: Supporting Our Fallen Heroes
At Your Home Sold Guaranteed Realty Prime Time, we are proud supporters of the Tunnel to Towers Foundation and their mission to provide mortgage-free smart homes to injured veterans. We believe in giving back to those who have sacrificed so much for our country, and we want you to be a part of this noble cause.
With every transaction involving buying or selling homes, we commit to donating a portion of our income to the Tunnel to Towers Foundation. By choosing us as your trusted real estate partner, you're not only receiving exceptional service but also contributing to the well-being of our heroes.
But that's not all! We need your help to make an even greater impact. When you refer clients to us, you're not only helping them navigate their real estate journey smoothly but also joining us in supporting our veterans. Each referral you send our way becomes another opportunity to give back.
Let's make a difference together!
I want to make it easy to refer your friends, neighbours, associates, or family members considering making a move, so here are your options:
You can go to www.HelpUsHelpTheHeroes.com and enter their contact info online or forward the link to whom you know considering a move.
Of course, you can always call me direct as well at 813-359-0880
.
Over a decade of helping hundreds of families sell their homes and/or buy another, we have met some wonderful, loving, caring people. People like you! So those you know considering a move that we help you have my word that we will do our very best in helping them buy or sell the place they call home.
Ernest Van Glahn
Selling Your Home and Getting Top Dollar!
Call me TODAY for a free consultation.
813-359-0880