Frank Siller's Emotional Balancing Act
Posted by Ernest Van Glahn on Wednesday, September 13, 2023 at 2:39 PM
By Ernest Van Glahn / September 13, 2023
Comment
9/11 Anniversary: Frank Siller's Emotional Balancing Act
On the solemn anniversary of 9/11, Frank Siller's heart is a tightrope of emotions as he remembers his brother, Stephen Siller. In this poignant narrative, we explore Frank's remarkable journey, one that blends sorrow and strength, memory and mission. Join us as we delve into the story of a man who has turned personal tragedy into a powerful tribute, illuminating the emotional balancing act that defines this day for him. Frank Siller's legacy serves as a symbol of hope and remembrance, inspiring us all amidst the echoes of that fateful morning.
Read related: A Foundation's Heartfelt Gesture
As you read this, imagine being part of a company supporting the Tunnel to Towers Foundation. You're not alone. Frank Siller, the foundation's Chairman and CEO, dedicates himself to honoring heroes like his brother, Stephen, who lost his life on 9/11.
Early each morning, before the sun rises, Frank arrives at Ground Zero. There, he privately reflects on his brother's courage. Stephen ran through the Brooklyn-Battery Tunnel, now known as the Huge Carey Tunnel, to help after the World Trade Center was hit. Frank is there to pray, grateful for the chance to see his brother's name and remember his bravery.
Throughout the day, after emotional interviews and public speeches urging everyone to "never forget," Frank gathers with his family to honor Stephen. They reminisce about his vibrant personality and the heroism he showed on that fateful day.
No surprises here. Frank Siller's brother, Stephen, ran through that tunnel and up those stairs on 9/11, just as you'd expect from someone like him.
From sunrise to sunset, Frank's all about business. His Tunnel to Towers foundation, created by his family to honor Stephen, has raised over $500 million. They support Gold Star families, first responders, and injured veterans. They've given away 1,000 mortgage-free homes and adapted smart homes for heroes.
Recently, they announced 22 new mortgage payoffs in honor of the 9/11 22nd anniversary. One went to a widow and children of a NYC transit police officer who died from 9/11-related cancer on Staten Island.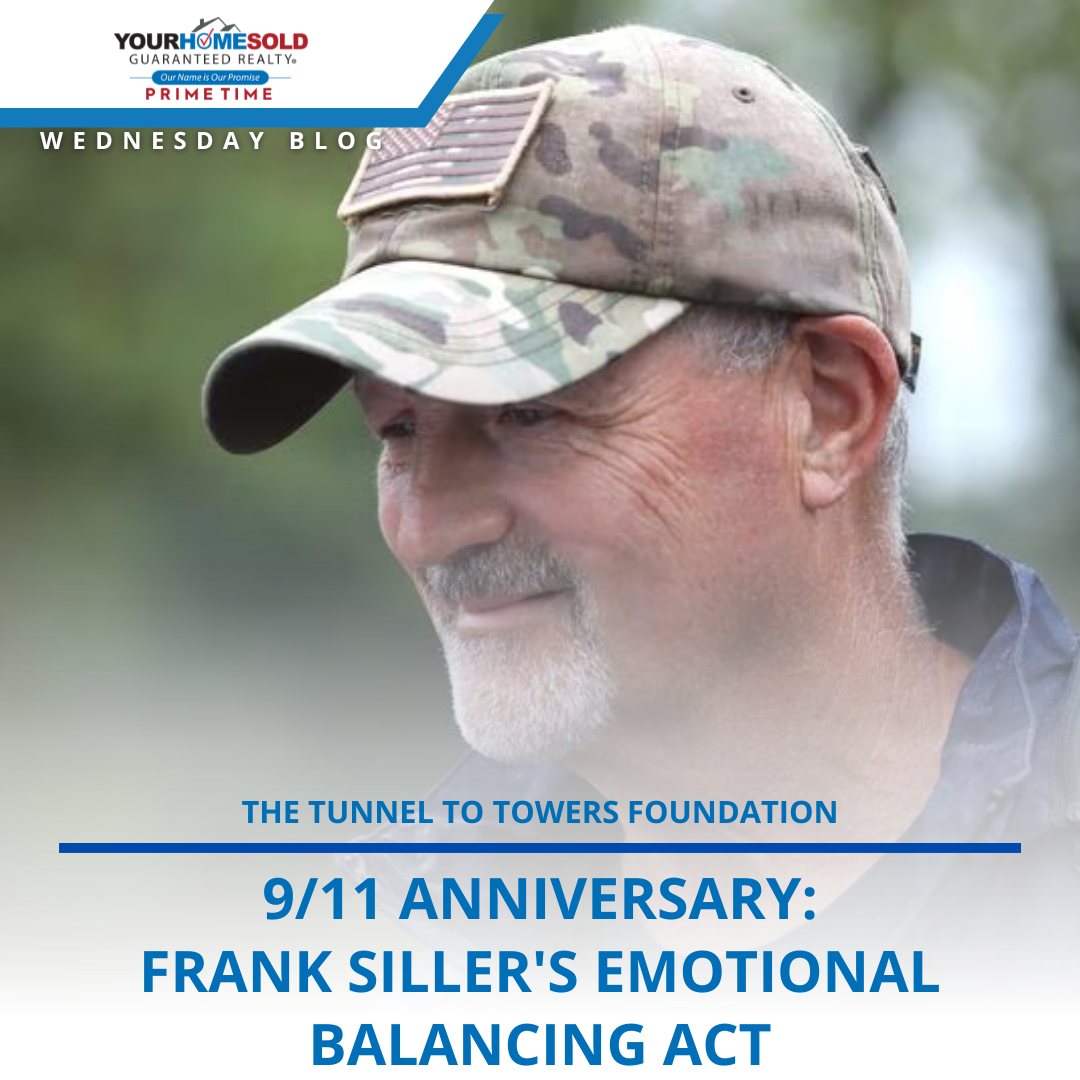 Also Read: Your Home Sold Guaranteed Realty Prime Time Supports Tunnel to Towers 5k Walk & Run
Every year, you hear Frank Siller talk about his brother Stephen's heroism, not just on 9/11 but all year round. It's his way of coping with the loss and honoring all the heroes of that day.
Frank's speeches raise awareness about the daily risks first responders face. As a father of three and a grandfather of six, he considers it an honor to speak out. He's out there doing interviews to remember his brother and all those who sacrificed their lives.
It all started with a promise his family made after Stephen's death - to never forget. That promise led to the Tunnel to Towers 5K Run & Walk, which began with 1,500 people in 2002 and has now grown to one of the top 5K runs in America, with over 35,000 participants in 2022. There are now more than 80 similar events held across the United States.
There's a responsibility that comes with the work of the Tunnel to Towers Foundation, a duty to honor and tell the stories of heroes. Frank Siller, the driving force behind the foundation, feels this deeply. He made a promise as a family to care for those who made the ultimate sacrifice.
Besides providing mortgage-free homes for heroes, the foundation runs a program to help homeless veterans, with plans to assist over 2,000 this year alone. They're active in several cities, with more on the horizon.
Read: Empowering an Injured Bangor Marine with a New Smart Home
As the 22nd anniversary of 9/11 approaches, Frank acknowledges the importance of reading the names of the fallen each year. His hectic schedule won't deter him because he knows many others are working that day, too.
The inconveniences are minor compared to the good work they do. Frank believes that goodness always triumphs over evil. Now, consider joining us in supporting the Tunnel to Towers Foundation. A portion of the income from homes we sell goes toward this noble cause. Together, we can make a difference and honor the heroes of 9/11.
Our Worthy Cause: Supporting Our Fallen Heroes
At Your Home Sold Guaranteed Realty Prime Time, we are proud supporters of the Tunnel to Towers Foundation and their mission to provide mortgage-free smart homes to injured veterans. We believe in giving back to those who have sacrificed so much for our country, and we want you to be a part of this noble cause.
With every transaction involving buying or selling homes, we commit to donating a portion of our income to the Tunnel to Towers Foundation. By choosing us as your trusted real estate partner, you're not only receiving exceptional service but also contributing to the well-being of our heroes.
But that's not all! We need your help to make an even greater impact. When you refer clients to us, you're not only helping them navigate their real estate journey smoothly but also joining us in supporting our veterans. Each referral you send our way becomes another opportunity to give back.
Let's make a difference together!
I want to make it easy to refer your friends, neighbours, associates, or family members considering making a move, so here are your options:
You can go to www.HelpUsHelpTheHeroes.com and enter their contact info online or forward the link to whom you know considering a move.
Of course, you can always call me direct as well at 813-359-0880
.
Over a decade of helping hundreds of families sell their homes and/or buy another, we have met some wonderful, loving, caring people. People like you! So those you know considering a move that we help you have my word that we will do our very best in helping them buy or sell the place they call home.
Ernest Van Glahn
Selling Your Home and Getting Top Dollar!
Call me TODAY for a free consultation.
813-359-0880