First Day of National Hispanic Heritage Month 2022
Posted by Ernest Van Glahn on Wednesday, September 14, 2022 at 4:38 PM
By Ernest Van Glahn / September 14, 2022
Comment
Today marks the 1st day of National Hispanic Heritage Month, a time to recognize and honor the rich cultures of our Hispanic/Latino communities.

Let's get proud!

Jennifer Lopez has had major success performing in both Spanish and English propelling the Latin Pop movement in the music industry. JLo starred in the iconic 1997 "Selena" biopic which gives the viewer a peek into the life of Latin Star, Selena Quintanilla. She was nominated for a Golden Globe Award, becoming the first Latin actress to earn over one million dollars for a movie roll. In 2018, TIME 100 honored JLo as one of the "100 most influential people" in the world.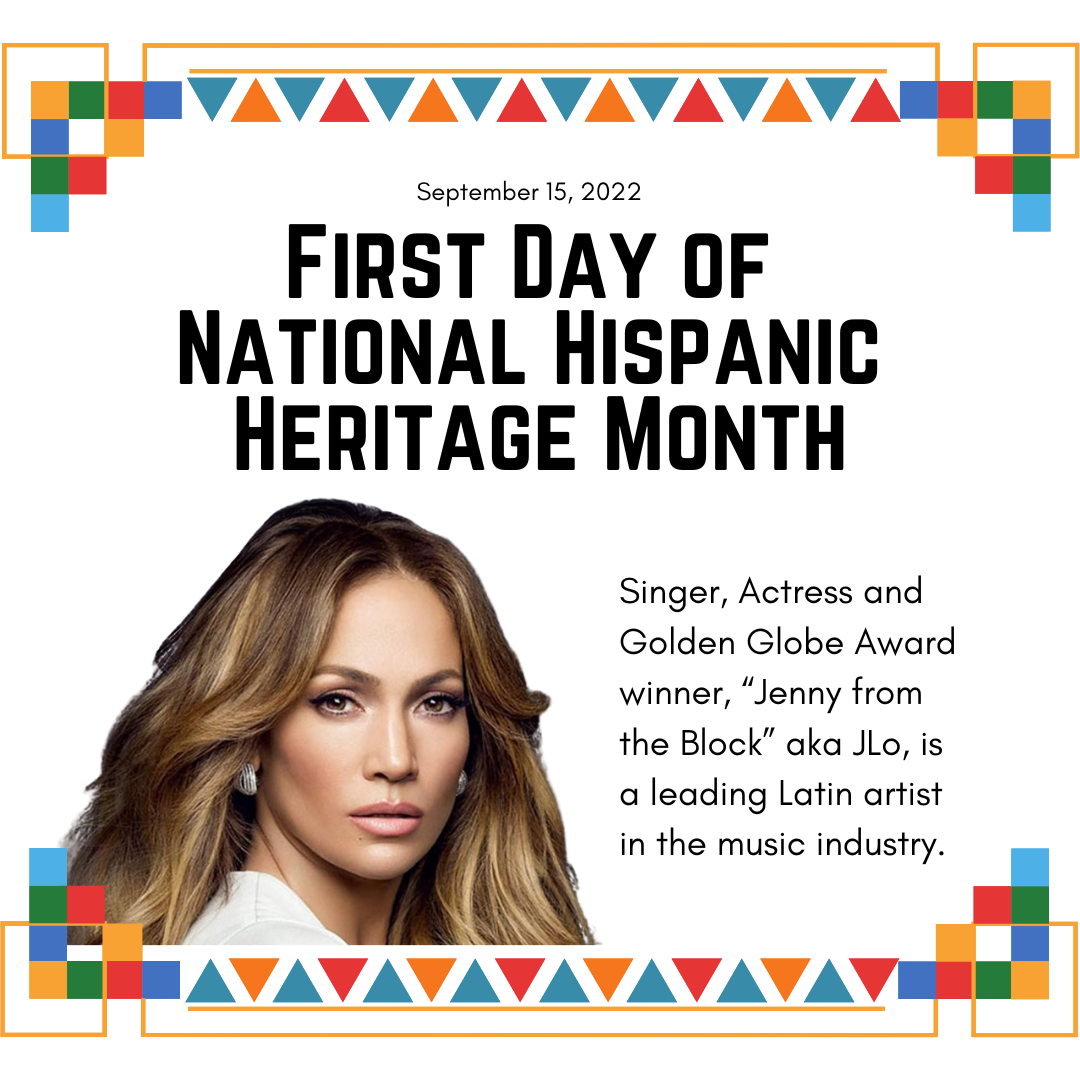 WHY CELEBRATE National Hispanic Heritage Month?
From September 15 through October 15 of every year, Americans celebrate National Hispanic Heritage Month by honoring the histories, cultures, and accomplishments of Americans with ancestors in Spain, Mexico, the Caribbean, Central America, and South America.
President Lyndon Johnson established the celebration in 1968 as Hispanic Heritage Week. President Ronald Reagan expanded it in 1988 to a 30-day period beginning on September 15 and concluding on October 15. On August 17, 1988, it became a law after Public Law 100-402 was approved.
The 15th of September is noteworthy because it marks the anniversaries of the independence of Nicaragua, Costa Rica, El Salvador, Guatemala, and Guatemala. Additionally, Mexico and Chile commemorate their respective national holidays on September 16 and September18, respectively. Also, Columbus Day or Día de la Raza, which is October 12, falls within this 30 day period.
#HispanicHeritageMonth #HispanicHeritageMonth2022 #FirstDayofNationalHispanicHeritageMonth #FirstDayofNationalHispanicHeritageMonth2022 #NationalHispanicHeritageMonth #NationalHispanicHeritageMonth #JenniferLopez
#PrimeTimeHomeTeam #YourHomeSoldGuaranteedRealty #YourHomeSoldGuaranteedRealtyPrimeTime #YourHomeSoldGuaranteedRealtyTampa #RealEstate #GuaranteedSale #YourHomeSoldGuaranteed #FloridaRealEstate #TampaRealEstate