Empowering Independence: Transforming an Injured Veteran's North Florida Home into a Smart Haven
Posted by Ernest Van Glahn on Wednesday, August 9, 2023 at 1:00 PM
By Ernest Van Glahn / August 9, 2023
Comment
In the heartwarming intersection of technology and compassion, a remarkable transformation has taken place, forever altering the life of an injured veteran in North Florida. The Tunnel to Towers Foundation, a beacon of hope for those who have sacrificed for our freedom, has embarked on a mission that transcends mere construction and renovation. With unwavering dedication, they have turned a once-conventional house into a marvel of modern innovation – a smart home that now stands as a testament to the power of human kindness and technological progress. This poignant narrative unveils the inspiring story of how this injured veteran's dwelling, once burdened by limitations, has been seamlessly woven into a cutting-edge, interconnected masterpiece, mirroring the indomitable spirit of its inhabitant. Prepare to embark on a journey that showcases not only the evolution of a physical space but also the rekindling of dreams, the restoration of independence, and the promise of a brighter future through the Tunnel to Towers Foundation's extraordinary endeavor.
Read related: Tunnel to Towers Foundation Pays Off Mortgages for Fallen Southern Colorado Heroes
Step into a story of transformation and resilience as the Tunnel to Towers Foundation creates a beacon of hope for injured veterans. Meet United States Marine Corps Captain Yessenia Buckley, a true embodiment of strength, who, after a life-changing accident, found herself bound by limitations.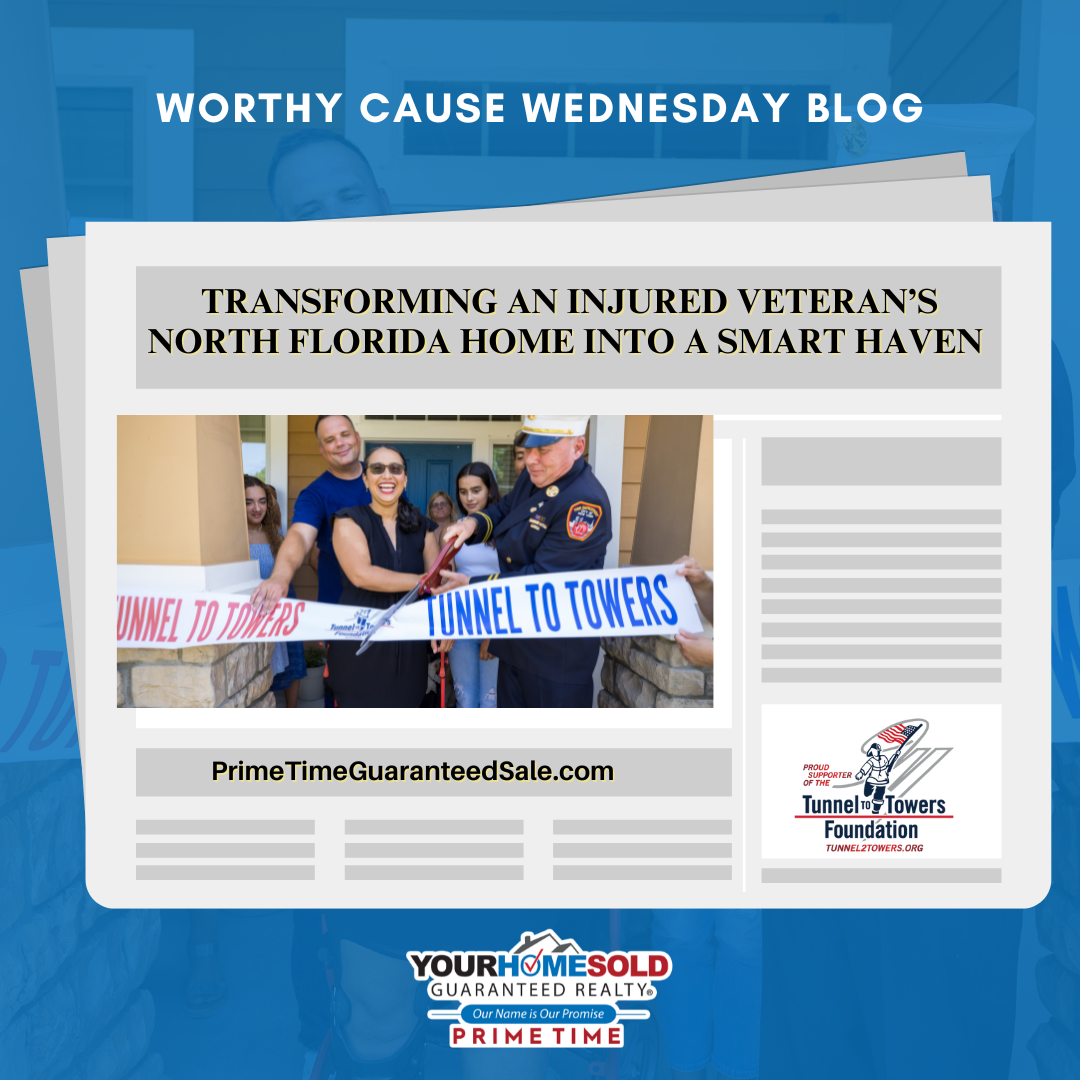 With your support, we've orchestrated a remarkable metamorphosis, turning her North Florida home into a fully-renovated smart haven.
Imagine the joy as Captain Buckley steps into her revitalized space, where smart technology and thoughtful architecture blend seamlessly. Every detail has been tailored to her needs, restoring her day-to-day independence. From pull-down cabinet shelving to an adjustable stove, we've redefined functionality. An automatic front door greets her with ease, allowing her to move freely in her wheelchair or with a cane.
But it doesn't stop there. Intercoms, cameras, and cutting-edge smart features intertwine to offer Captain Buckley a new sense of control. Lights, temperature, and security are just a touch away, accessible through a simple smartphone app. Her voice echoes through the intercoms, connecting her with her loved ones, while cameras provide reassurance and peace of mind.
Also Read: Tunnel to Towers Foundation Delivers Smart Home to USMC Corporal Mathew Bowman
Captain Buckley's unwavering spirit and determination have been the driving force behind her recovery journey. Her newfound passion for adaptive sports serves as an inspiration to all, proving that hurdles can be surmounted with resilience and a different approach. As she regains her ability to stand and walk, her story becomes a testament to the human spirit's unyielding power.
Read: Master Sergeant Logan Brokaw Receives a Smart Home
Your contribution to the Tunnel to Towers Foundation echoes beyond bricks and mortar. It's a lifeline to independence, a catalyst for dreams reborn. Join us in making a lasting impact. As Captain Buckley herself emphasizes, no matter the challenges faced, it's the ability to adapt, overcome, and inspire that truly counts. Together, let's turn houses into homes and help heroes like Captain Buckley reclaim their lives. Stand with us and make a difference today.
Our Worthy Cause: Supporting Our Fallen Heroes
At Your Home Sold Guaranteed Realty Prime Time, we are proud supporters of the Tunnel to Towers Foundation and their mission to provide mortgage-free smart homes to injured veterans. We believe in giving back to those who have sacrificed so much for our country, and we want you to be a part of this noble cause.
With every transaction involving buying or selling homes, we commit to donating a portion of our income to the Tunnel to Towers Foundation. By choosing us as your trusted real estate partner, you're not only receiving exceptional service but also contributing to the well-being of our heroes.
But that's not all! We need your help to make an even greater impact. When you refer clients to us, you're not only helping them navigate their real estate journey smoothly but also joining us in supporting our veterans. Each referral you send our way becomes another opportunity to give back.
Let's make a difference together!
I want to make it easy to refer your friends, neighbours, associates, or family members considering making a move, so here are your options:
You can go to www.HelpUsHelpTheHeroes.com and enter their contact info online or forward the link to whom you know considering a move.
Of course, you can always call me direct as well at 813-359-0880
.
Over a decade of helping hundreds of families sell their homes and/or buy another, we have met some wonderful, loving, caring people. People like you! So those you know considering a move that we help you have my word that we will do our very best in helping them buy or sell the place they call home.
Ernest Van Glahn
Selling Your Home and Getting Top Dollar!
Call me TODAY for a free consultation.
813-359-0880