April 5 is Gold Star Spouses Day Tunnel To Towers
Posted by Ernest Van Glahn on Wednesday, April 5, 2023 at 5:29:09 PM
By Ernest Van Glahn / April 5, 2023
Comment
Gold Star Spouses Day is a solemn occasion to remember and honor the surviving spouses of service members who sacrificed their lives for our country. In observance of this day, the Tunnel to Towers Foundation has provided mortgage-free homes to five Gold Star families, who lost their loved ones while serving the nation.
One of these families is that of Army Sergeant LaDavid Johnson, who was ambushed and killed by ISIS militants in Niger on October 4, 2017. His wife, Myeshia, and their three children, received a mortgage-free home as a tribute to Johnson's sacrifice.
Another fallen hero is Army Sergeant First Class Omar Forde, who was killed in action in Afghanistan in 2013. His wife, Megan, and their two sons, were also among the beneficiaries of the Tunnel to Towers Gold Star Family Home Program.
Marine Corps Captain John Sax, Marine Corps Lance Corporal Dennis Veater, and Navy Lieutenant Paul Fridley, were also honored by the foundation for their sacrifice. Sax, who was killed during a training exercise in California, left behind his wife, Amber, and their two daughters. Veater, who died in combat in Iraq, left behind his fiancée, Angalene, and their son, Dominick. Fridley, who died in an aircraft crash, left behind his pregnant wife, Sarah, who later gave birth to their son, Paul.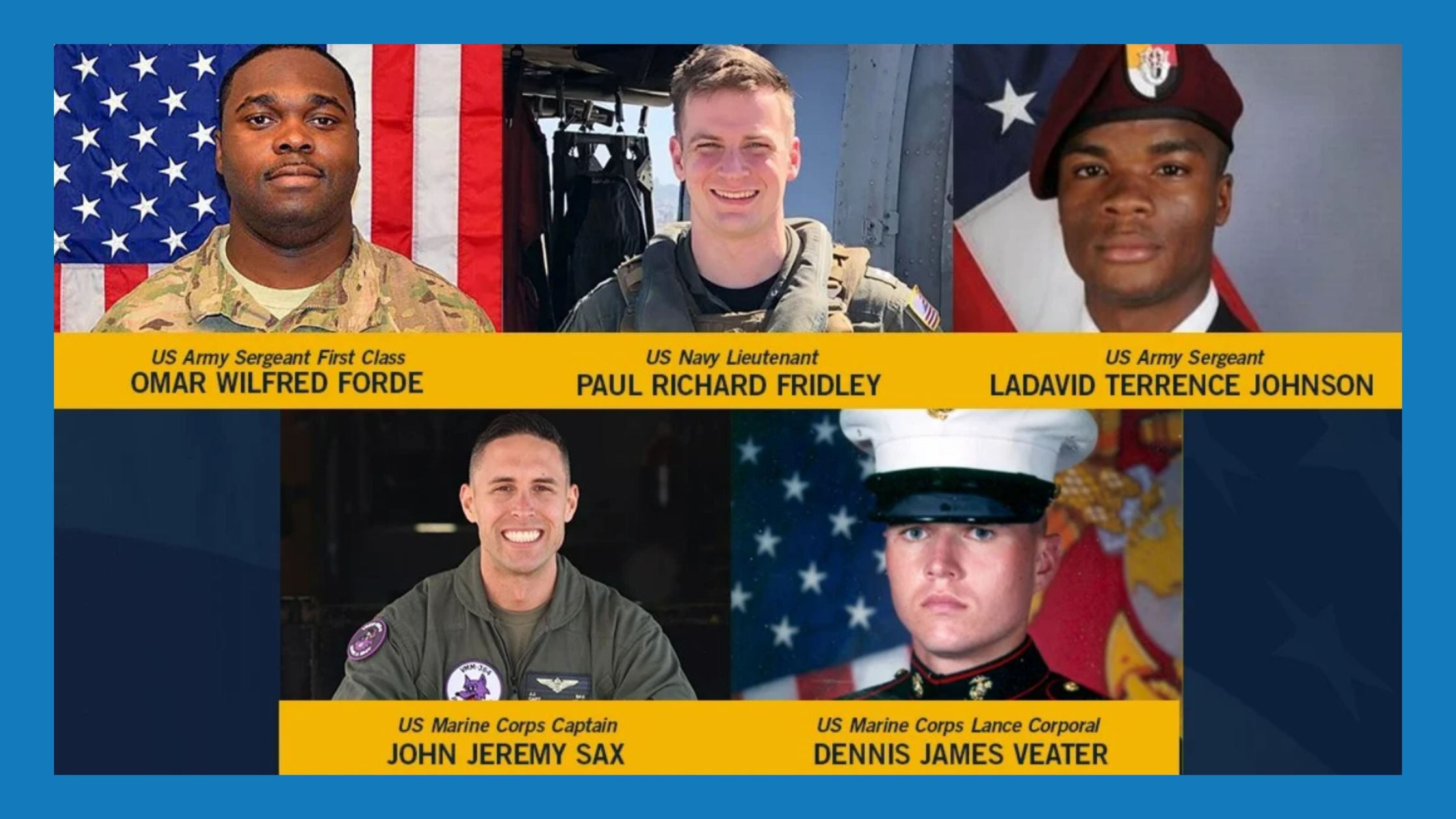 The Tunnel to Towers Gold Star Family Home Program pays off the mortgages or provides mortgage-free homes to the surviving spouses and young children of fallen service members. The program serves as a reminder that their sacrifice will never be forgotten and that they will always be supported.
In a statement, Frank Siller, the Chairman and CEO of the Tunnel to Towers Foundation, said, "When a brave hero signs up to serve, their whole family serves alongside them. Tunnel to Towers recognizes the surviving spouses of fallen soldiers, who fill the roles of two parents while working tirelessly to keep their loved ones' memories alive."
On this Gold Star Spouses Day, let us remember the sacrifice of these brave service members and their families, and honor their memory by supporting and thanking those who continue to serve our country.
Source: Tunnel to Towers
We are still on a mission to raise $25,000 for the Tunnel to Towers Foundation this year and we are getting close! We do this by donating to them a portion of our income from homes we sell.
As you know Tunnel to Towers Foundation does AMAZING work in helping our nation's first responders, veterans, and their families by providing these heroes and the families they leave behind with mortgage-free homes. They are also committed to eradicating veteran homelessness and aiding the victims of major U.S. disasters.
SO, YOUR REFERRALS REALLY DO HELP OUR HEROES.....
Who do you know considering buying or selling
a home you could refer to our real estate sales team?
Not only will they benefit from our award-winning
real estate service, a very worthy cause will benefit as well.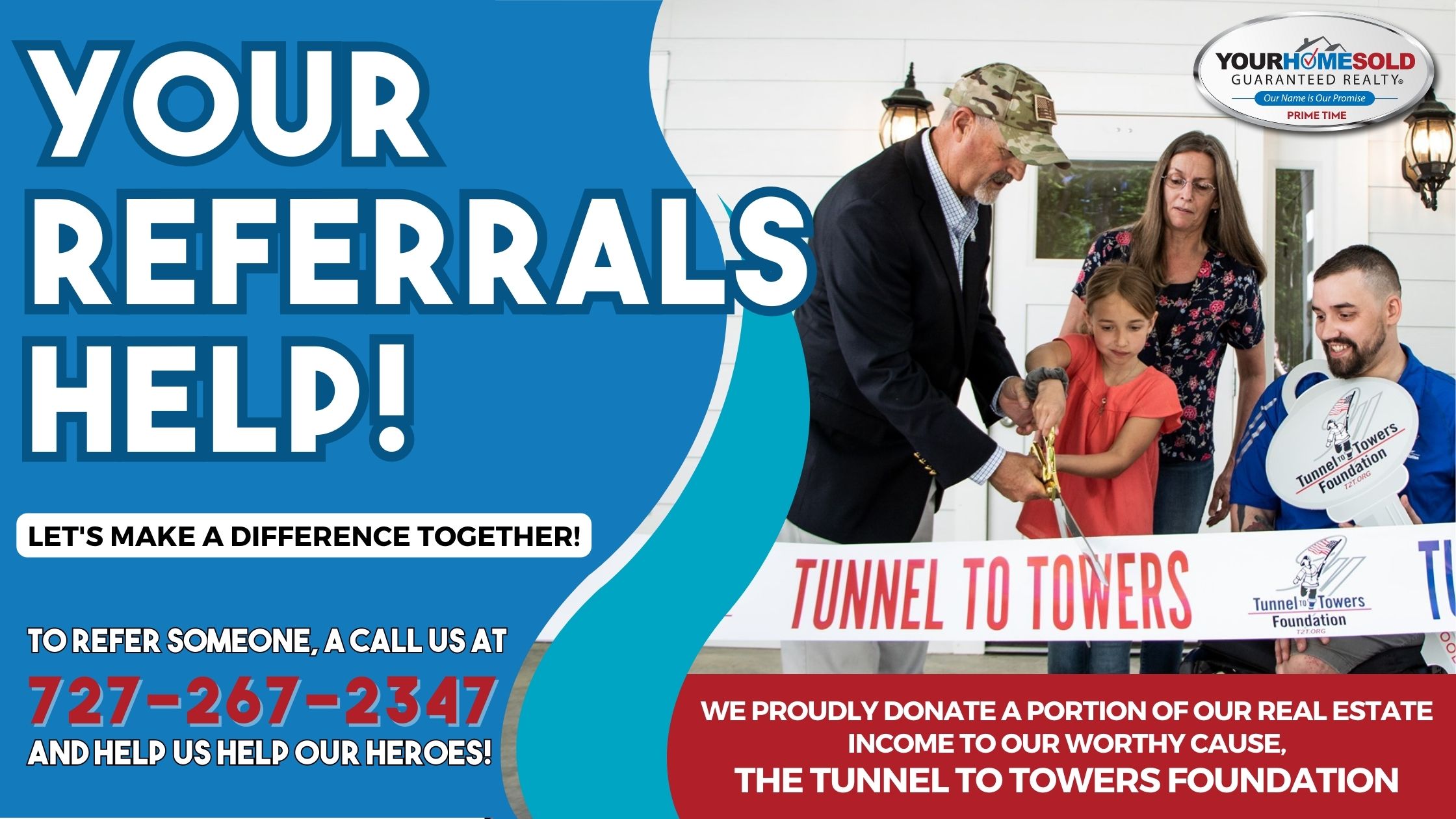 I want to make it easy to refer your friends, neighbors, associates, or family members considering making a move, so here are your options:
You can go to www.HelpUsHelpTheHeroes.com and enter their contact info online or forward the link to whom you know considering a move.
Of course, you can always call me direct as well at 813-359-0880.
Over a decade of helping hundreds of families sell their homes and/or buy another, we have met some wonderful, loving, caring people. People like you! So those you know considering a move that we help you have my word that we will do our very best in helping them buy or sell the place they call home.
Ernest Van Glahn
Selling Your Home and Getting Top Dollar!
Call me TODAY for a free consultation.
813-359-0880