A Foundation's Heartfelt Gesture
Posted by Ernest Van Glahn on Wednesday, September 6, 2023 at 2:59 PM
By Ernest Van Glahn / September 6, 2023
Comment
Deputy's Mortgage Paid in Full: A Foundation's Heartfelt Gesture
In the close-knit community of Smith County, tragedy has given rise to an extraordinary act of generosity. A fallen deputy, who served the county with unwavering dedication, has had their mortgage paid in full by a local foundation. This heartwarming story showcases the resilience of a small-town community and the enduring legacy of a true hero. Join us as we explore how this foundation's selfless gesture ensures that the spirit of the fallen deputy lives on in the very heart of Smith County.
Read related: Empowering an Injured Bangor Marine with a New Smart Home
Last year, on July 29, tragedy struck the Smith County community when Deputy Sheriff Lorenzo Bustos lost his life while on duty. A drunk driver struck him during a routine traffic stop on State Highway 155.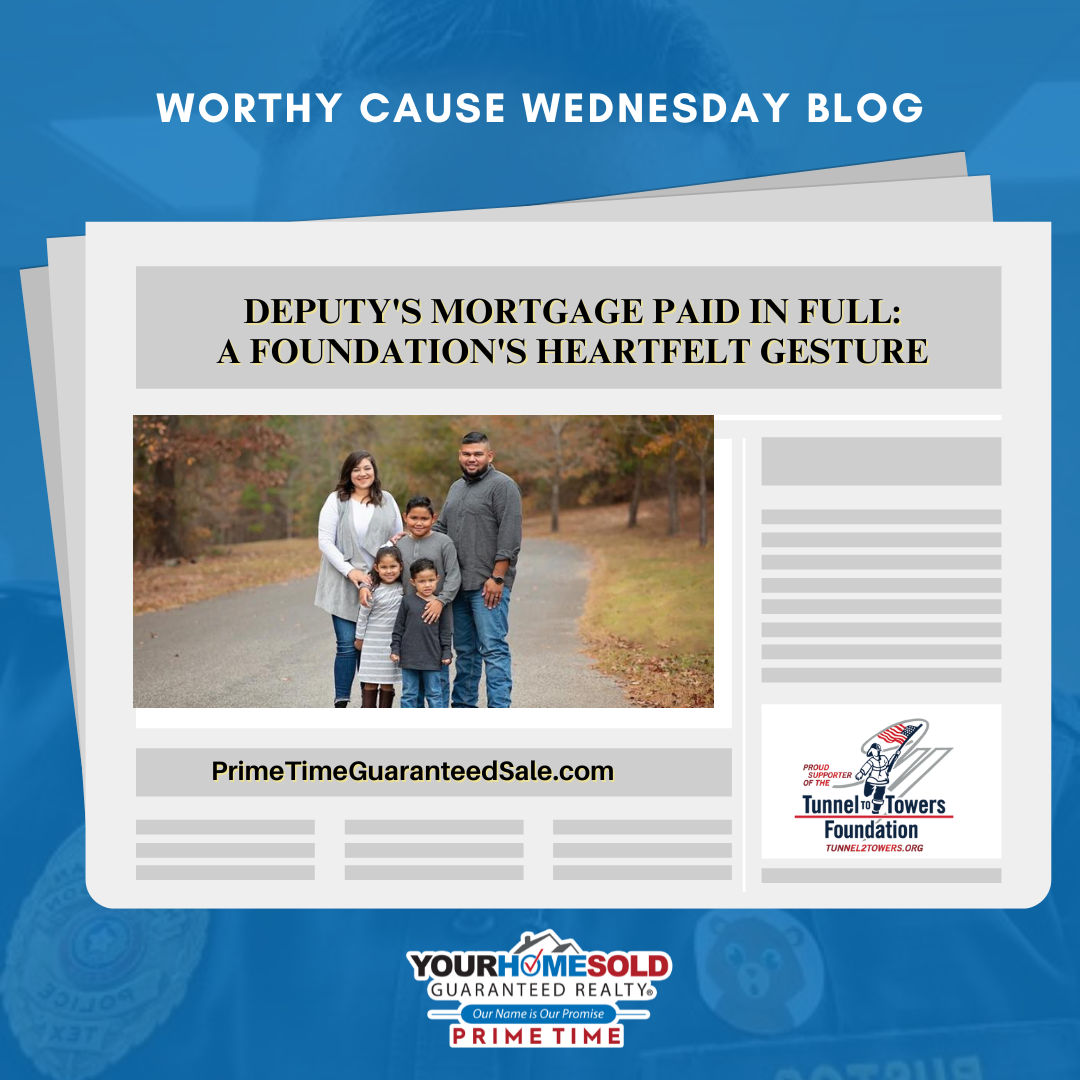 Deputy Bustos was not just a dedicated law enforcement officer but also a loving husband to Gloria, his high school sweetheart, and a devoted father to their three children. His commitment to service extended over the years, from the Texas Department of Criminal Justice to local law enforcement agencies.
Also Read: Elevating Lives: Delivering a Mortgage-Free Smart Home to an Injured Veteran's Triumph
Now, thanks to the Tunnel to Towers Foundation, Gloria and her children have had their mortgage fully paid off. Gloria expressed her gratitude, saying, "Tunnel to Towers contacted me and told me they would be paying off my mortgage, I felt an immediate sense of relief. Knowing the kids and I would never have to worry about where we live, knowing I would not have to struggle to pay the mortgage, is an amazing gift."
This Independence Day, the Tunnel to Towers Foundation made a significant impact by providing over 30 mortgage payoffs to Gold Star families and fallen first responder families across the country. Their mission is clear: to ensure that the families of those who sacrifice their lives in the line of duty can keep their homes.
Read: Reigncane Vodka Pledges Support: Raising Spirits and Homes for Heroes
As we celebrate our freedom this July 4th, let's remember why we can do so. It's because of the brave first responders and military members who protect us daily. By supporting the Tunnel to Towers Foundation, you're helping fulfill their mission of providing mortgage-free homes to Fallen First Responder Families.
Join us in honoring these heroes and ensuring their families have a stable place to call home. Your support matters.
Our Worthy Cause: Supporting Our Fallen Heroes
At Your Home Sold Guaranteed Realty Prime Time, we are proud supporters of the Tunnel to Towers Foundation and their mission to provide mortgage-free smart homes to injured veterans. We believe in giving back to those who have sacrificed so much for our country, and we want you to be a part of this noble cause.
With every transaction involving buying or selling homes, we commit to donating a portion of our income to the Tunnel to Towers Foundation. By choosing us as your trusted real estate partner, you're not only receiving exceptional service but also contributing to the well-being of our heroes.
But that's not all! We need your help to make an even greater impact. When you refer clients to us, you're not only helping them navigate their real estate journey smoothly but also joining us in supporting our veterans. Each referral you send our way becomes another opportunity to give back.
Let's make a difference together!
I want to make it easy to refer your friends, neighbours, associates, or family members considering making a move, so here are your options:
You can go to www.HelpUsHelpTheHeroes.com and enter their contact info online or forward the link to whom you know considering a move.
Of course, you can always call me direct as well at 813-359-0880
Over a decade of helping hundreds of families sell their homes and/or buy another, we have met some wonderful, loving, caring people. People like you! So those you know considering a move that we help you have my word that we will do our very best in helping them buy or sell the place they call home.
Ernest Van Glahn
Selling Your Home and Getting Top Dollar!
Call me TODAY for a free consultation.
813-359-0880